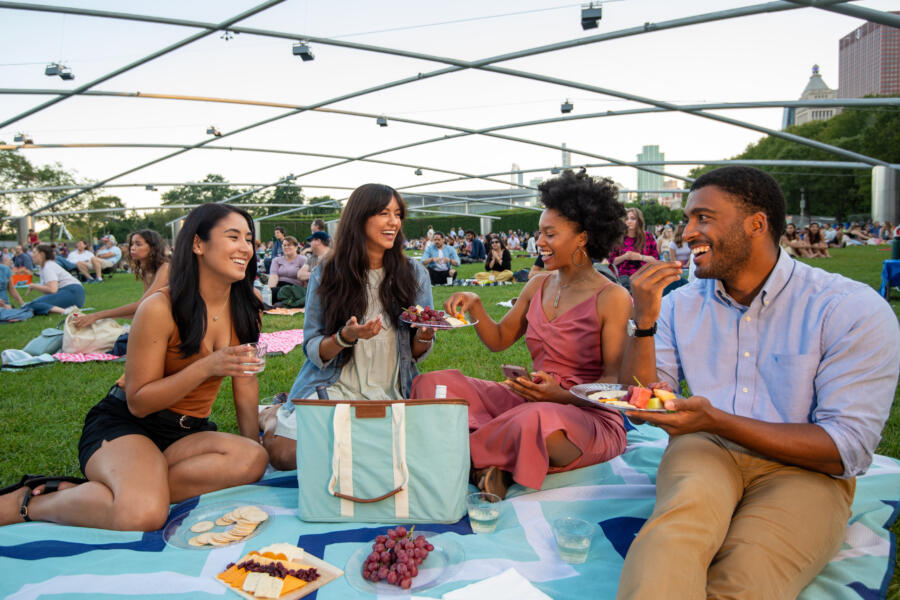 You don't need to reach for your wallet to get your fill of fun things to do all around the city. Here are 10 of our favorite free events and activities this month in Chicago, including exciting neighborhood festivals, cultural celebrations, interactive dance events, historic tours, free museum days, and so much more. Start planning your budget-friendly Chicago adventures for July 2022.
1. Celebrate the Fourth of July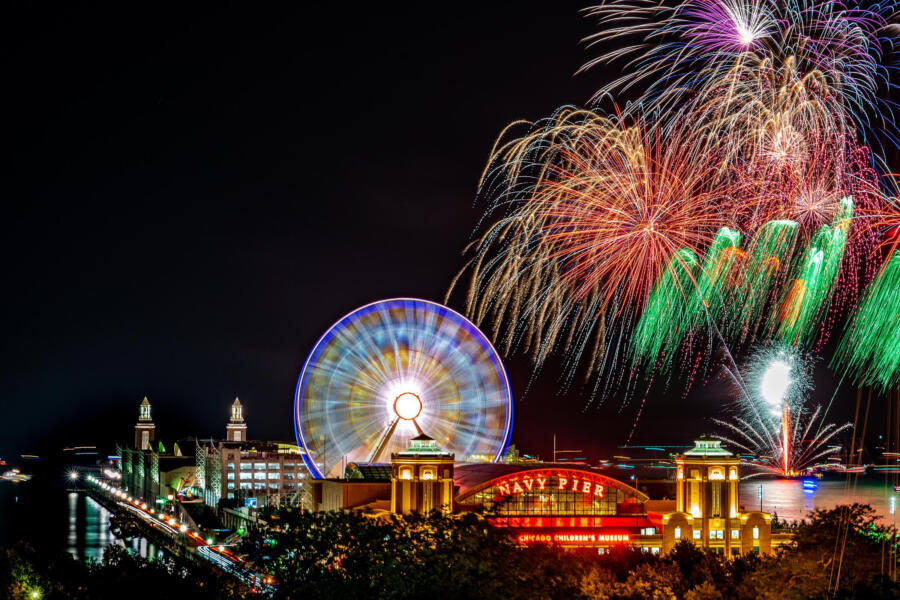 Navy Pier's Fourth of July fireworks display is one of the most iconic parts of a Chicago summer. The dazzling free show will light up the sky on Saturday, July 2, accompanied by patriotic music. You catch the show on the Pier, at Offshore Rooftop, or on a lakefront boat cruise. Explore more ways to celebrate the Fourth of July in Chicago.
Bonus: You can see free fireworks at Navy Pier every Wednesday and Saturday through Labor Day weekend.
2. Experience Taste of Chicago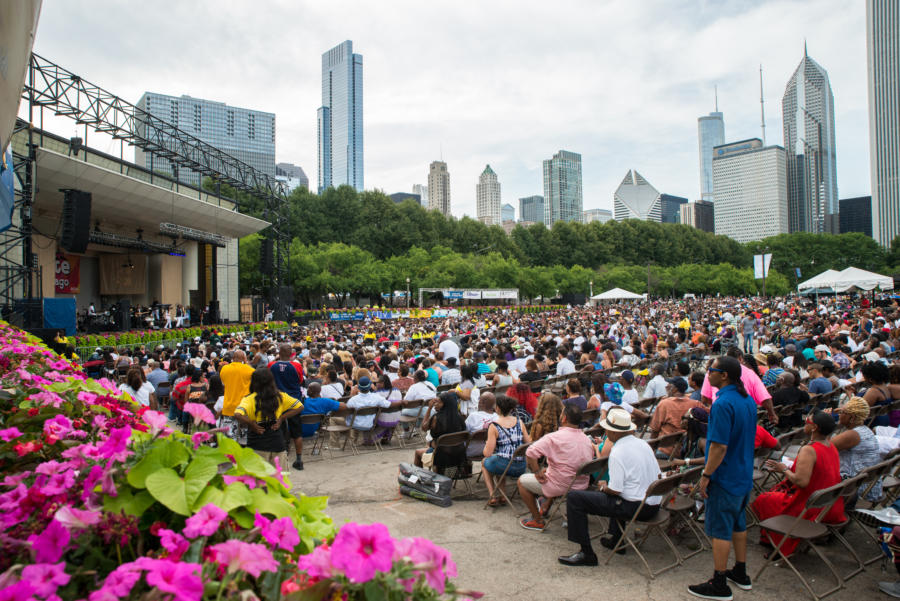 Traditionally one of the largest free admission food festivals in the world, Taste of Chicago is back in Grant Park. This year, fest-goers will find more than 30 restaurants and food trucks offering their best bites. While you'll need to pay to taste bites from the various food vendors, there's also plenty to do without reaching for your wallet.
Catch free nightly concerts at the Petrillo Music Shell, featuring top acts like Nelly, Aterciopelados, and Drive-By Truckers. Or learn some new moves at a Chicago SummerDance pop-up, with live music and dancing across different genres.
Plus, The Hatchery Chicago is partnering with Taste of Chicago for this year's Garfield Park Community Eats. Visit the West Side on Saturday, July 2 from 12 – 4 p.m. for live music and free food.
3. Catch movies, music, and more in Millennium Park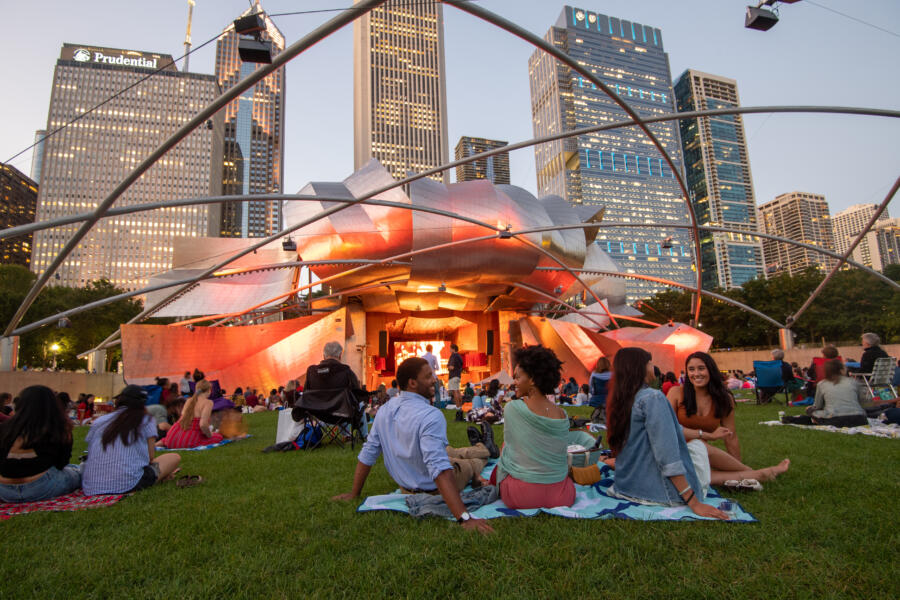 Abel Arciniega :: @tequilagraphics
Summer means plenty of fun and free events in iconic Millennium Park, from major music festivals to movie screenings under the stars. Check out the lineup of free shows coming to the Pritzker Pavilion this July.
Millennium Park Summer Film Series: Every summer in Chicago, visitors and locals flock to the Jay Pritzker Pavilion to kick back, picnic, and watch blockbusters, award-winning movies, family classics, and cult favorites.
Millennium Park Music Series: Grab a spot on the grass and enjoy free weekly concerts by local and national artists.
Grant Park Music Festival: This 80-year tradition brings free classical music to Millennium Park all summer long.
Millennium Park Summer Workouts: Break a sweat with free yoga, Zuma, and tai chi classes against the skyline backdrop.
Check out the full Millennium Park events calendar.
4. Experience Year of Chicago Dance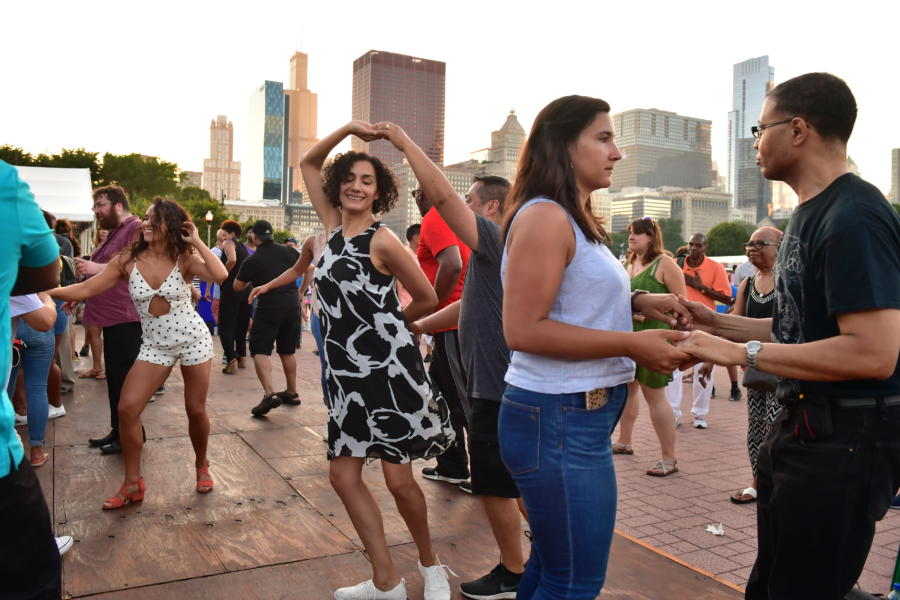 Chicago is home to an innovative and influential dance scene, and you can get a taste during the Year of Chicago Dance. All summer long, you'll find free outdoor performances and fun lessons on Navy Pier and throughout Chicago's neighborhood parks, including:
Wave Wall Moves: Pop-up dance performances featuring a rotating roster of dance companies at Navy Pier.
Chicago SummerDance: Learn some new moves with live music and dance classes held in Chicago parks, celebrating a diverse variety of genres.
Mural Dances: Parks across the city will host these free performances, where local dancers and musicians create and perform projects inspired by Chicago's vibrant neighborhood murals.
Find more events and performances during the Year of Chicago Dance.
5. See Shakespeare in the parks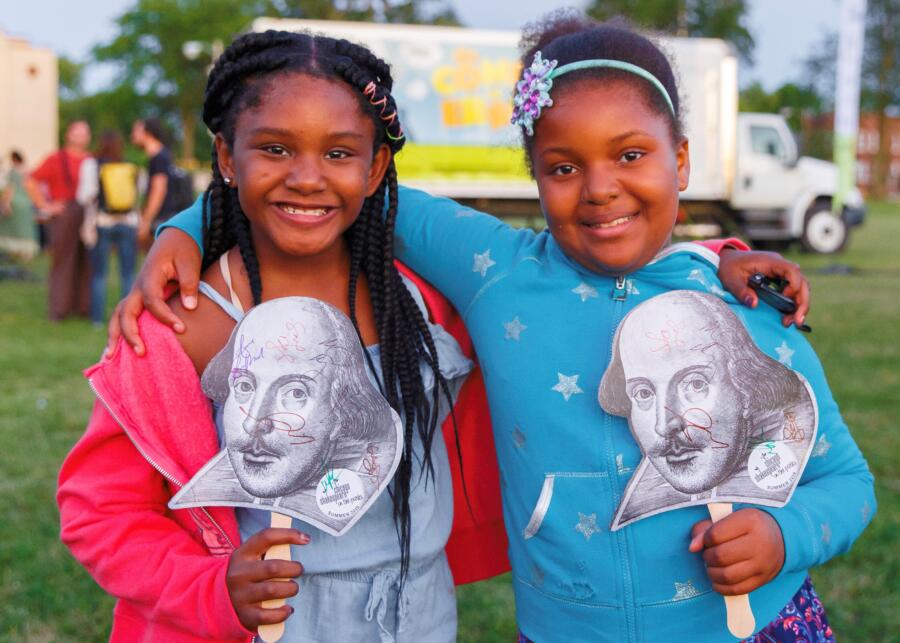 Shakespeare in The Parks, Photo by Vashon Jordan Jr.
Chicago Shakespeare in the Parks is a free theatrical event that has been bringing pop-up performances to green spaces all around the city for more than 10 years. This year's ShakesFest: A Chicago Shakespeare Community Cabaret will take place from July 14 – 23, 2022. Created and performed in partnership with local artists and arts organizations, these all-ages shows will take place in West Pullman, West Town, Little Village, Austin, Englewood, and Chinatown.
6. Enjoy a free museum day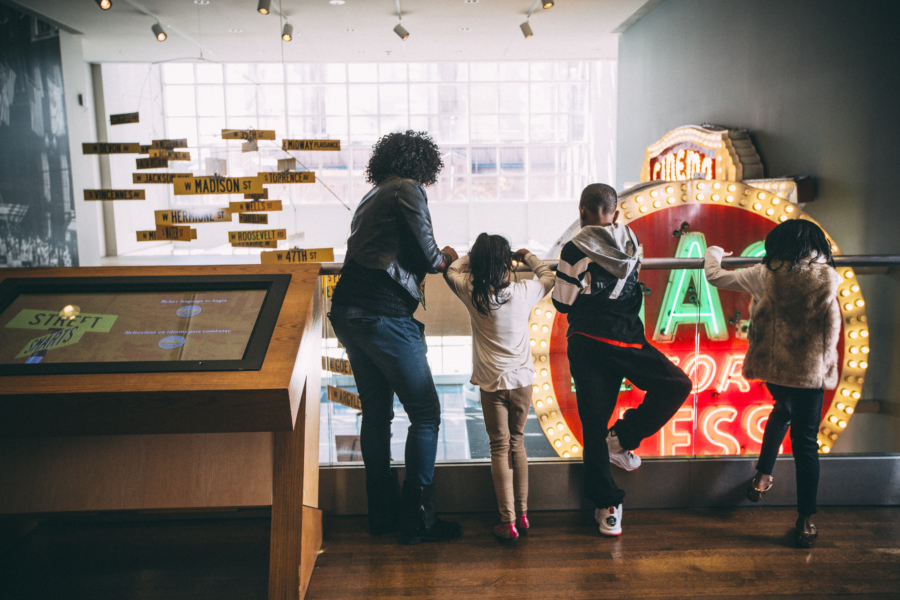 Clayton Hauck for Choose Chicago
Spend an afternoon wandering through a Chicago museum, where you can dive into fascinating local history, provocative contemporary art, and galaxies far far away. Here are the upcoming free museum days in Chicago this month:
Chicago History Museum is free for Chicago residents on July 4,
Adler Planetarium is free for Illinois residents every Wednesday evening.
Museum of Contemporary Art is free for Illinois residents every Tuesday.
DuSable Black History Museum and Education Center is free for all every Wednesday.
You can also check out one of the city's always-free museums, like the National Museum of Puerto Rican Arts and Culture, the National Museum of Mexican Art, and the Hyde Park Art Center. And check out free museum days throughout the year.
7. Hear live jazz at a museum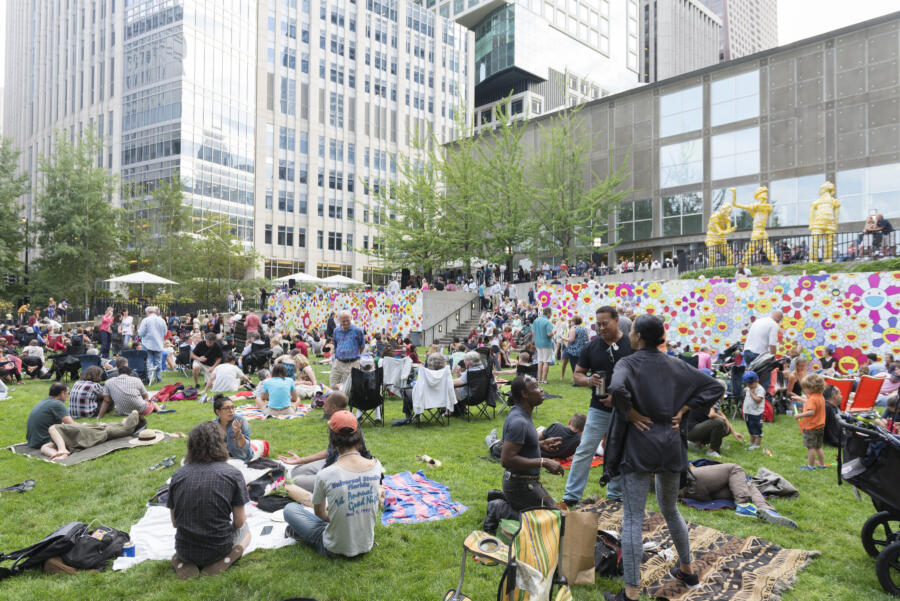 Tuesdays on the Terrace
The Museum of Contemporary Art's popular Tuesdays on the Terrace series is back, with free weekly concerts on the museum's lawn. The shows highlight artists from Chicago's internationally renowned jazz community. Guests are encouraged to bring their own picnics; light refreshments and a full bar with cold beverages, wine, and cocktails are available for sale.
8. Discover a new neighborhood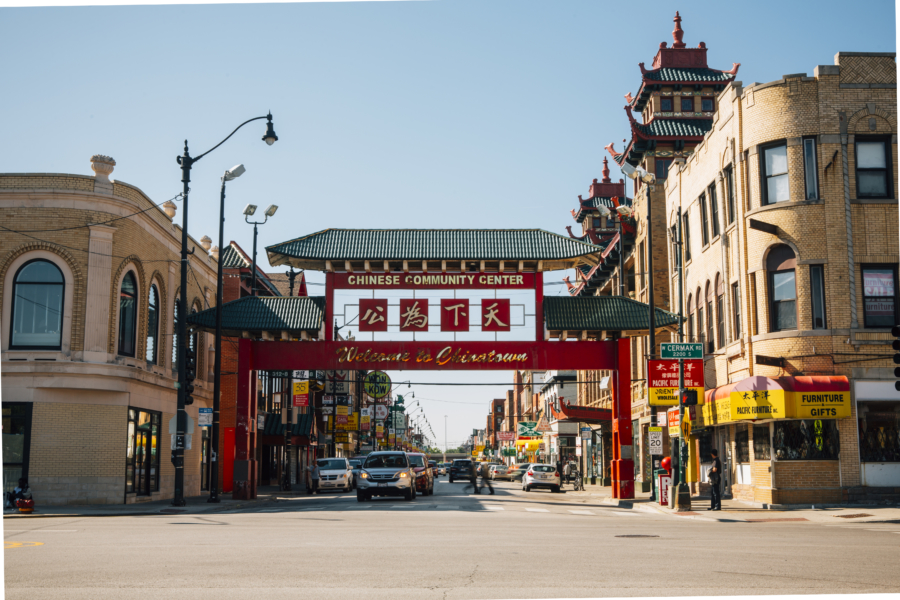 9. Take a free history tour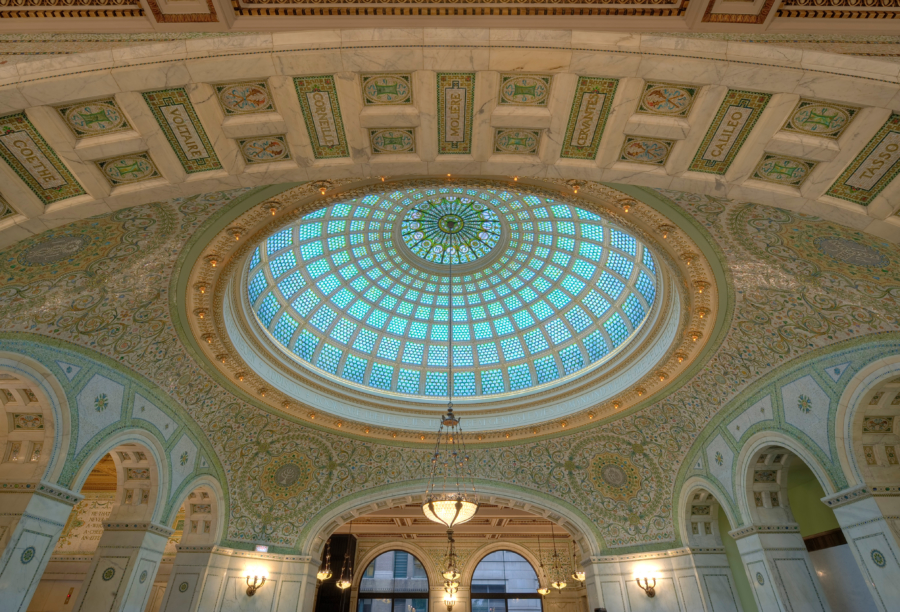 Chicago is full of stunning landmarks and historic spaces — and you can learn all about them during these free tours.
Historic Former Wabash YMCA: This Bronzeville building, known as the birthplace of Black History Month, is filled with fascinating history. This month's tour is July 9.
Charnley-Persky House: A National Historic Landmark in the Gold Coast recognized as a pivotal work of modern American architecture. Catch a free, small-group tour every Wednesday.
Chicago Cultural Center: An iconic cultural attraction in the Loop, it's worth visiting just to see the intricate Tiffany glass dome. Tours meet every Thursday and Friday afternoon.
Clarke House Museum: The oldest home in Chicago, the Clarke House has been standing in the South Loop since before the Civil War. Take a look inside during the free tours on Wednesday and Saturday afternoons.
10. Catch live music, movies, yoga, and more on the lakefront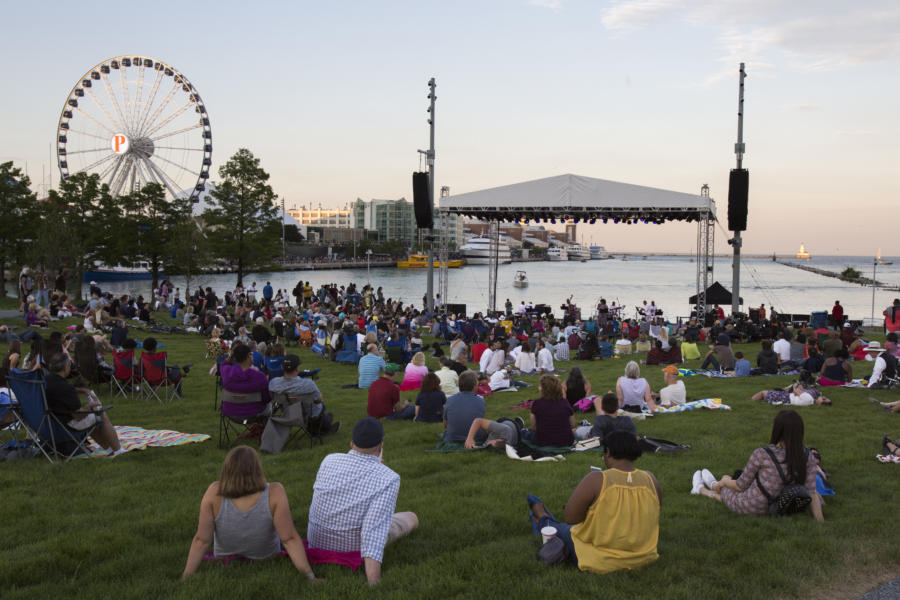 Heidi Zieger Photography
Navy Pier offers a full schedule of free summer events, from live DJ performances to outdoor fitness classes. Check out everything happening on the Pier this July:
Joffrey Ballet's Rita Finds Home on Saturday, July 9 and Sunday, July 10
Water Flicks: Families on Film starting July 11
Bastille Day on Wednesday, July 13
Fresh Fest! on Thursday, July 14 – Friday, July 15
Water Colors starting Friday, July 15
Rhythm World on Wednesday, July 20
Visit the Navy Pier events calendar for more details.
Looking for more? Check out our guide on free things to do in Chicago all year long.