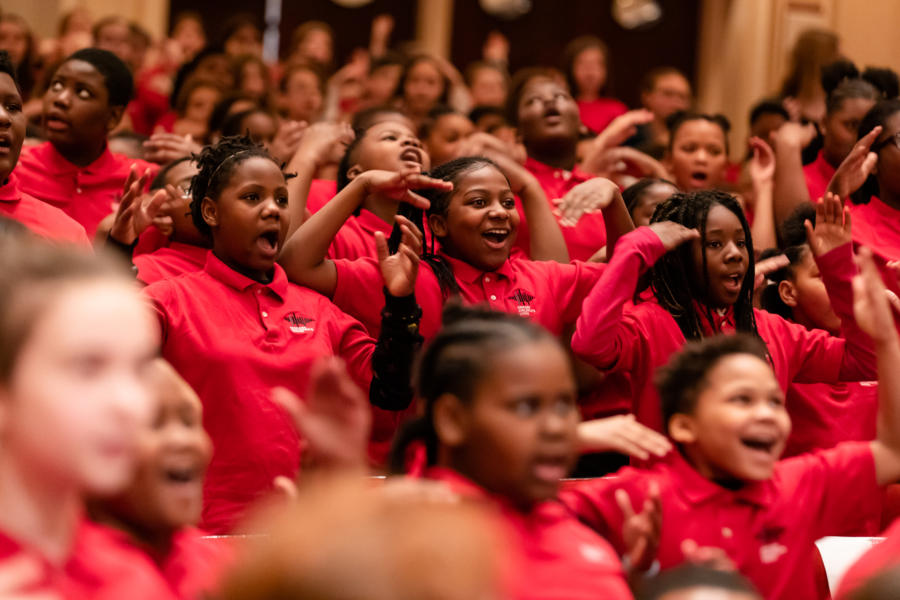 Black History Month brings an annual spotlight to Black achievements, creativity, and history that too often get overlooked. In Chicago, our extensive African American cultural history supplies the backdrop for a rich assortment of activities this year, which include both virtual and in-person options.
Check out our list of Black History Month 2022 events in Chicago.
Museum exhibits
Trace the significance of African American artists, activists, and innovators with an exciting array of exhibits hosted by Chicago's cultural institutions.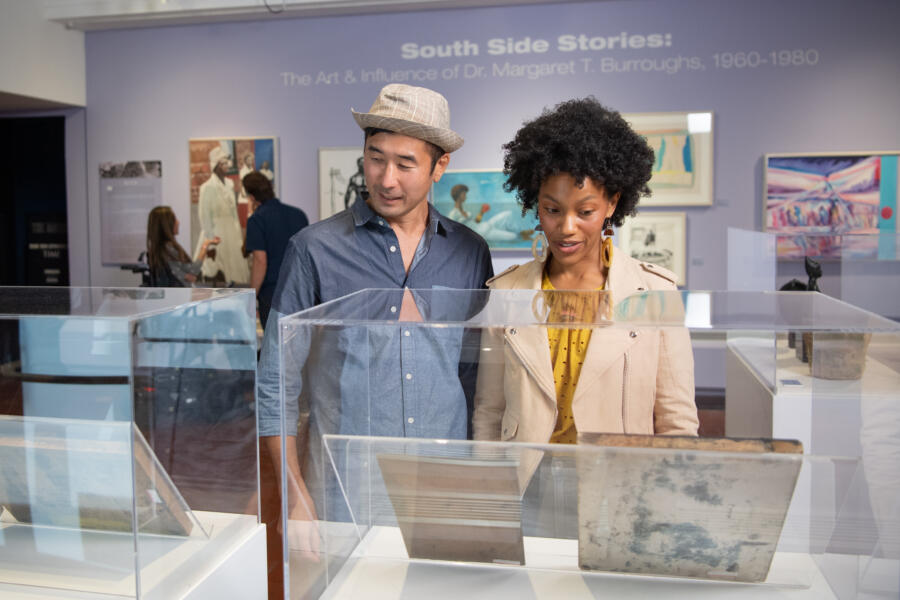 Photo by Abel Arciniega, @tequilagraphics
The March at DuSable Black History Museum and Education Center: Experience the immersive virtual reality exhibit that takes you back in time to the 1963 March on Washington for Jobs and Freedom. Make sure to explore the museum's other diverse exhibitions, like The Harold Washington Story.
13th Amendment to the U.S. Constitution: Heritage Auctions in River North will be displaying the original document that abolished slavery in the U.S., along with many other historic pieces from the time.
Frederick Douglass: Agitator at the American Writers Museum: This virtual exhibit explores the career and later life of writer and activist Frederick Douglass.
Black Creativity Juried Art Exhibition at the Museum of Science and Industry: Attend one of the longest-running annual exhibits of African American artists, as well as the work of past and present African American architects.
The Underworld: George Crump at the South Side Community Art Center: View artworks that examine the psychological and social afterlives of oppression.
Art and Race Matters: The Career of Robert Colescott at the Chicago Cultural Center: Visit this retrospective of Colescott's large-scale paintings that reflect cultural hierarchies and inequality in America.
Remembering Dr. King at the Chicago History Museum: Walk through this gallery of photos that spotlight Dr. Martin Luther King Jr.'s activism in Chicago.
Concerts
Celebrate Black History Month through song, from R&B to classical to world music, at these virtual and in-person shows.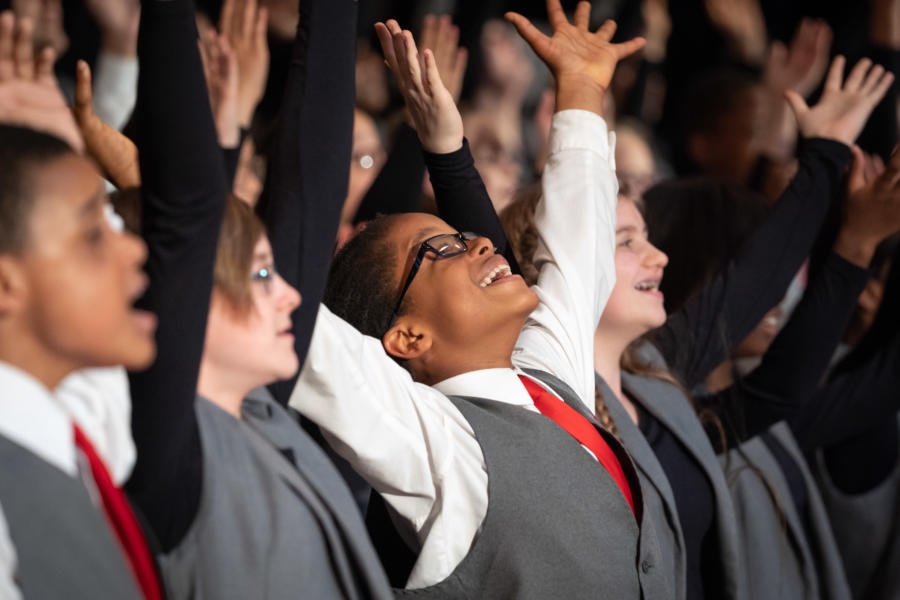 Chicago Children's Choir, photo by Elliot Mandel
Black History Month virtual concert by the Chicago Children's Choir: Listen to the uplifting voices of the Chicago Children's Choir along with neighborhood choirs during a live-streamed concert on Feb. 26, featuring music from Nigeria, Jamaica, and Peru to highlight the sounds of the African Diaspora.
The Chevalier at the Chicago Symphony Orchestra: Listen to the rarified classical melodies of Joseph Bologne, Guadeloupes' brilliant Black 18th-century composer who influenced Mozart and taught music to Marie Antoinette during this Midwest premiere on Feb. 20.
A Celebration of Black Excellence: In Hyde Park, The Promontory Chicago hosts a live show by the beloved R&B chanteuse Tweet on Feb. 20.
Film screenings and shows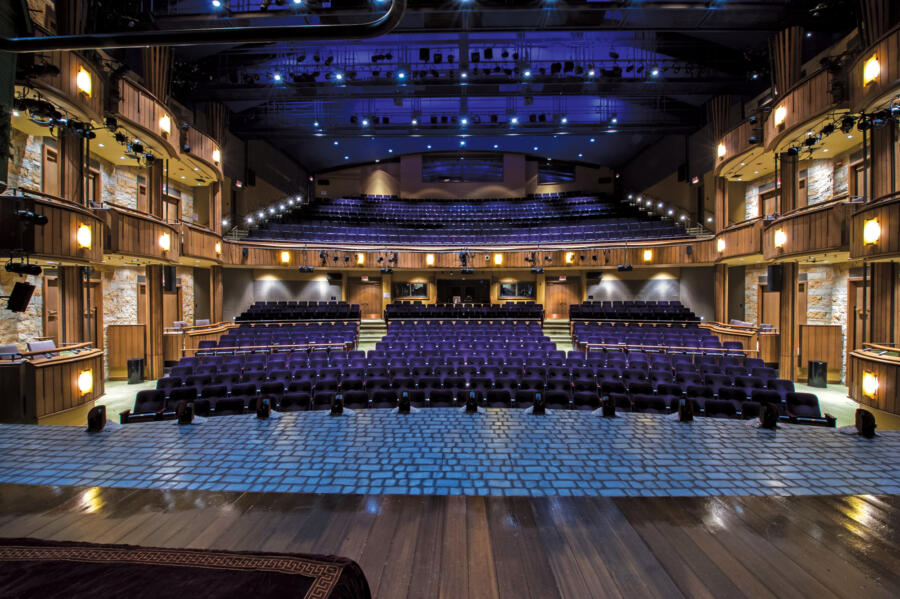 The Second City's Black History Month Show: This new show pulls from decades' worth of classic sketches and songs created by some of the comedy club's most notable Black alumni.
Film screenings from the Chicago Public Library: Catch a variety of documentary screenings throughout the month, including Blood Brothers: Malcolm X & Muhammed Ali at the West Englewood Library on Feb. 2 and The Soloist in Pullman on Feb. 9.
Gem of the Ocean: The Goodman Theatre presents a major revival of the play that started August Wilson's epic 10-story cycle chronicling African American life through every decade of the last century, through Feb. 27.
Trial In the Delta: The Murder of Emmett Till:

This adaptation by Collaboraction with the DuSable Black History Museum and Education Center will reenact the 1955 court proceedings in the murder of Emmett Till.
Tours and talks
Join live discussions about Black history and different aspects of Black life and culture with these lectures, tours, and discussions.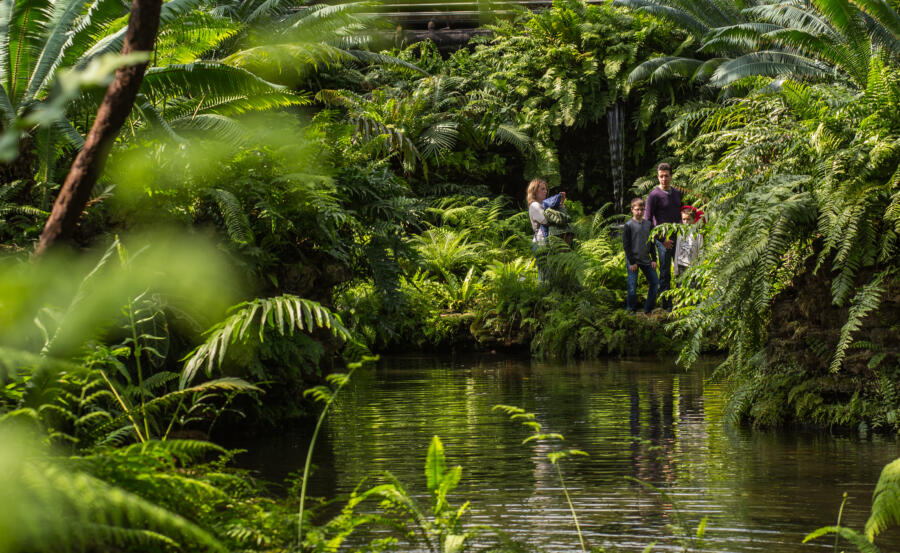 Garfield Park Conservatory; photo by Adam Alexander
Black History Month self-guided tour at Garfield Park Conservatory: Learn about Black History through the lens of the Conservatory's extensive plant collection with this at-home or in-person tour. If you visit the Conservatory, make sure to check out Monday Coffee Co., the Black-owned coffee shop popping up through February.
Jean-Baptiste Pointe DuSable webinar: Discover the life and legacies of Chicago founder Jean-Baptiste Pointe DuSable with a free webinar on Feb. 1 hosted by the Field Museum.
Author talks from the American Writers Museum: Hear from various authors on topics like Aretha Franklin's career (Feb. 2), motherhood and the inequities of American society (Feb. 8), how to fight against white supremacy (Feb. 17), and civil rights icon Pauli Murray (Feb. 22).
A Simple Cotton Sack: A Conversation about African American Women, Trauma, and Resistance: Join this Feb. 3 edition of Conversations at the Newberry Library, which will feature a virtual discussion about the new book All That She Carried.
Guided Tour of the Historic Former Wabash YMCA: Take a free tour of this Bronzeville building, known as the birthplace of Black History Month.
Dining specials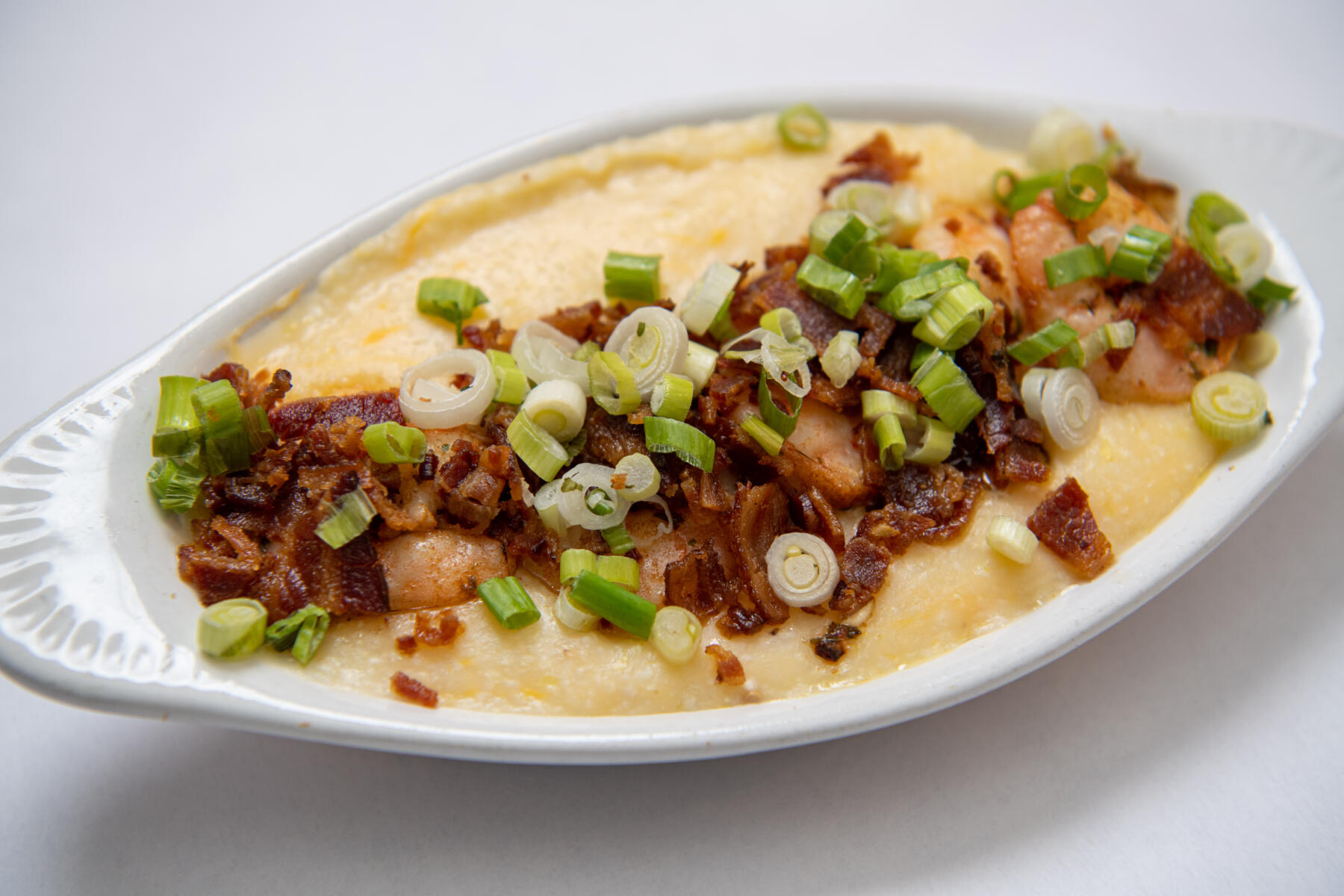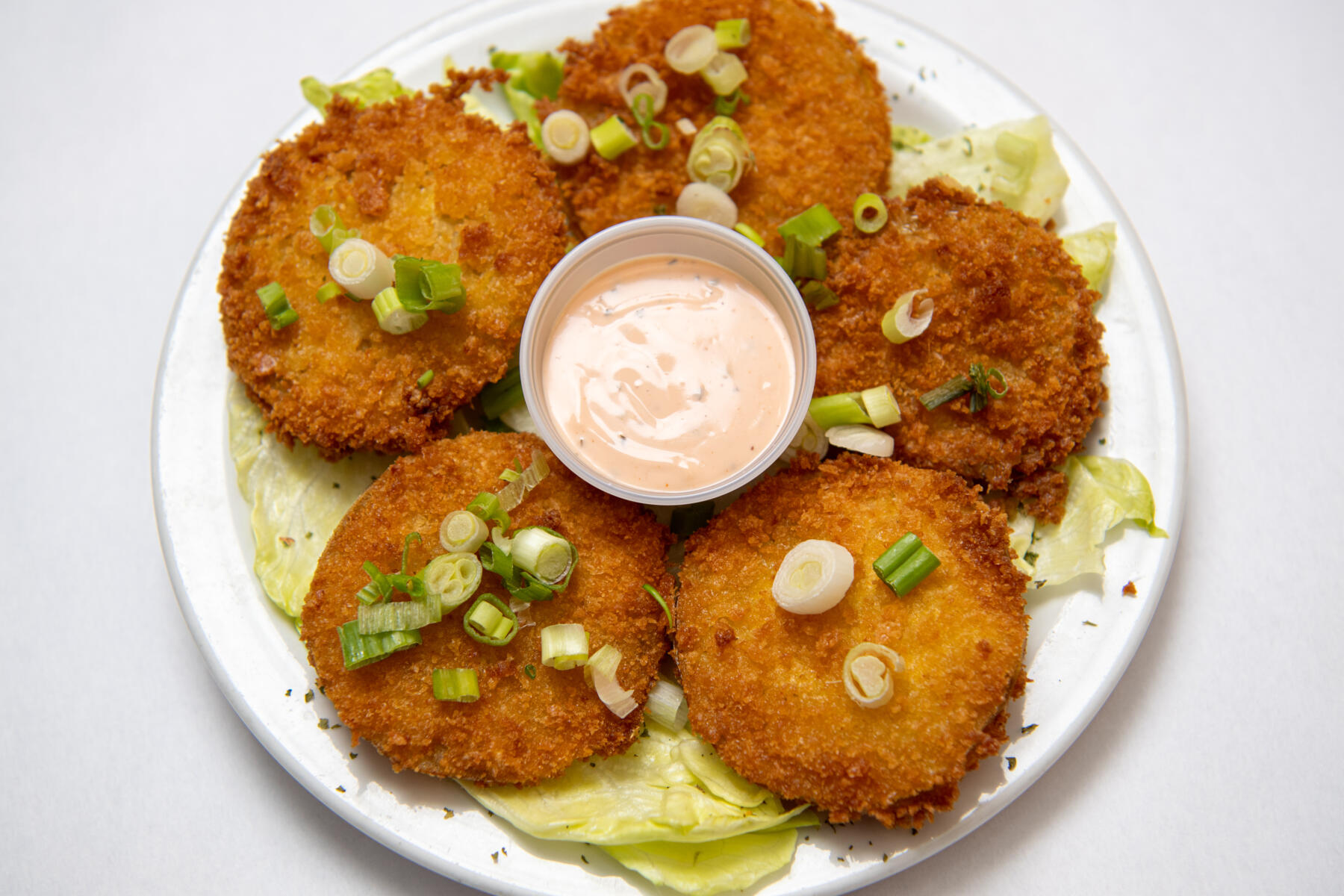 Chicago Black Restaurant Week is back, celebrating the city's Black-owned eateries with two weeks of incredible eats. This year's seventh annual event will run from Feb. 6  – 20, 2022. Participating restaurants will be unveiled soon.
Black-owned breweries at Haymarket Pub: This February, a number of Black-owned breweries will take up residence in Haymarket Pub in the West Loop. Come taste brews from Funkytown Brewery, Moor's Brewing, Black Horizon Brewing, and Turner Haus Brewery.
Historic landmarks and monuments
All around Chicago, you'll find physical reminders of the city's Black history and culture. In particular, the streets of the historic Bronzeville neighborhood are lined with monuments and landmarks dedicated to the area's rich African American legacy. Go on a DIY walking tour of the area and don't miss the Monument to the Great Northern Migration, the Bronzeville Walk of Fame, the Victory Monument, the Ida B. Wells-Barnett House, and more.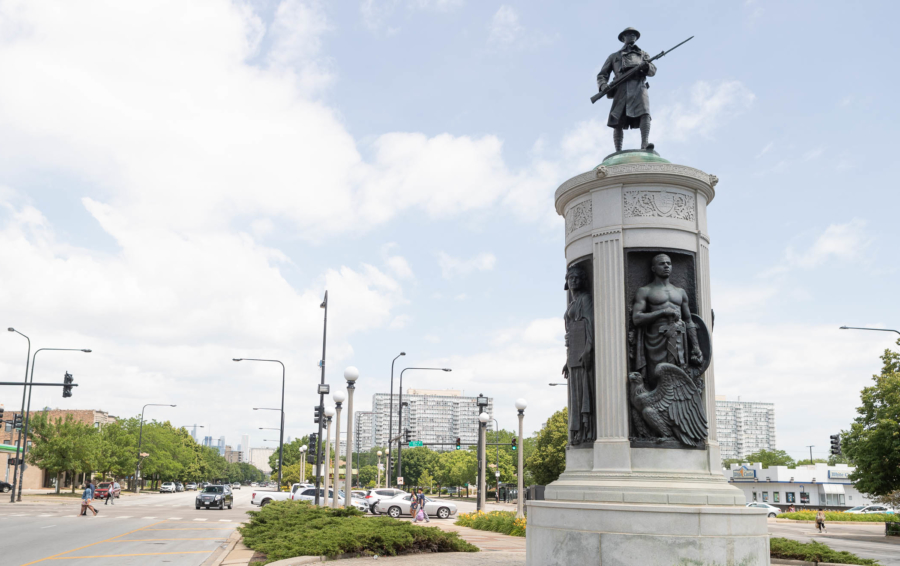 Victory Monument in Bronzeville
In Pullman, the National A. Philip Randolph Pullman Porter Museum honors the history of the Black labor movement. The museum is currently closed for the season, but you can register for a full virtual tour. And one of the city's newest landmarks is Emmett Till's Chicago home in the Woodlawn neighborhood.

Black owned small business spotlights
Black-owned businesses in Chicago
One of the best ways to celebrate Black History Month is by supporting local Black-owned businesses. Chicago is home to a diverse community of Black-owned restaurants, theatres, bookstores, and beyond.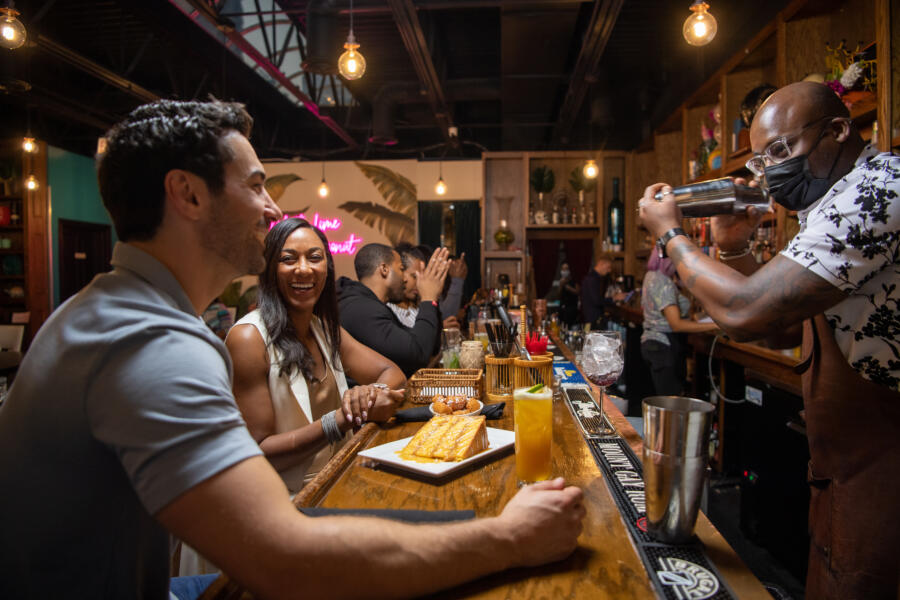 14 Parish; Abel Arciniega :: @tequilagraphics
Bookstores
Frontline Distributors International
Semicolon Bookstore
The Underground Bookstore
Art & theatre
Little Black Pearl
ETA Creative Arts Foundation
Gallery Guichard
Black Ensemble Theater
Some Like It Black Creative Arts Bar
Shopping
Bronzeville Boutique 
Essential Elements
Belle Up Boutique
The Silver Room
Love Peridot
An Orange Moon
Plant Salon
Restaurants
14 Parish Rhum Bar
Flippin Flavors
Majani Soulful Vegan Cuisine
Ain't She Sweet Cafe
Virtue Restaurant & Bar
Justice of the Pies
Brown Sugar Bakery
Batter & Berries
Luella's Southern Kitchen
Norman's Bistro
Five Loaves Eatery
Ina Mae Tavern
Pearl's Place
Frontier
Sip & Savor
Sweet Maple Cafe
Taste 222
Peach's on 47th
Original Soul Vegetarian
Soulé Chicago
Ethiopian Diamond
Garifuna Flava
Demera Ethiopian 
Explore more Black-owned businesses throughout Chicago's neighborhoods