Make like a spy and discover SafeHouse Chicago, hidden behind a mysterious red door at 60 E. Ontario St. in the heart of River North. If you don't know the password, you'll need to perform a fun clearance test for operative Moneypenny to prove you're not a double agent and gain entry. Once inside, explore a futuristic restaurant and bar filled with authentic spy artifacts, fun games, and delicious eats and cocktails!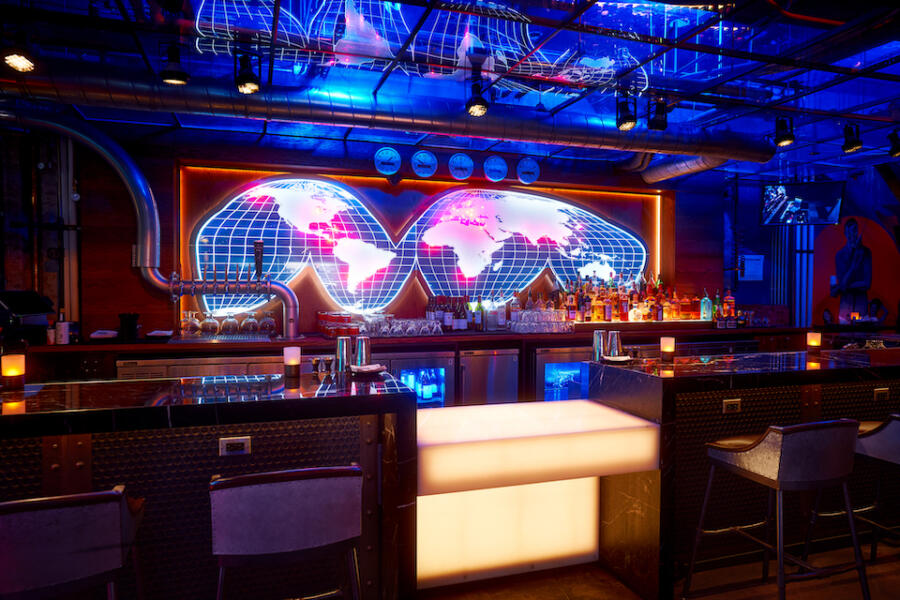 The SafeHouse Chicago experience
As guests enter, they are plunged into an immersive world of espionage. Here you can create your own agent name, decode ciphers, use tech gadgets, and undergo interrogation. Explore each sector through a recon duty scavenger hunt. Monitors throughout SafeHouse Chicago stream live footage from Moneypenny's desk so you can watch fellow spies perform silly entrance tests.
The Interpol Bar is stationed right off the entrance and features a glowing Old Globe world map as its backdrop. Authentic artifacts fill the entire space, including the flight deck from a spy plane donated by the man who flew it in World War II, as well as a piece of the Berlin Wall secured from covert operatives. From the Spybrary to the Cone of Silence booth to the Interrogation Room, every element pays homage to the intelligence community. And don't miss the Gadget Bar, boasting authentic props from spy movies.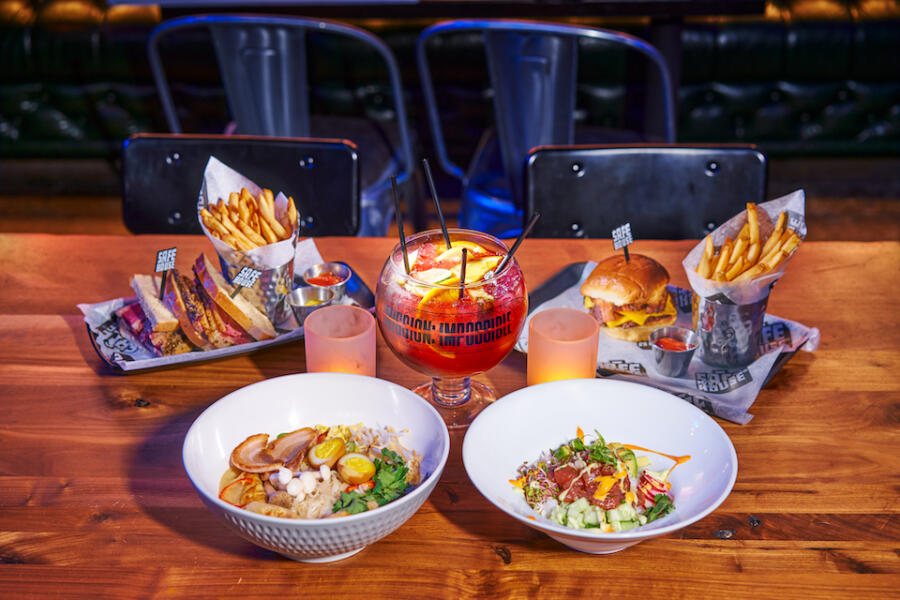 Food and drink
SafeHouse Chicago's menu offers something for every spy. Try the MOAB, A.K.A. the Mother of All Burgers, constructed with American cheese, bacon, fried egg, and secret sauce. The Kingsman, A.K.A. an English-style braised short rib with Yorkshire pudding and horseradish mashed potatoes. Or dig into the spicy A License to Kill Mac & Cheese, with smoked chicken, maple-peppered bacon, and chipotle peppers. Junior spies can choose from Goldfingers chicken tenders, the Juni Special burger, Carmen Cortez baked mac & cheese, or the Uncle Machete taco salad.
The extensive cocktail menu includes classic spytinis (martinis), margaritas with a twist, and Mission Impossible shared cocktails for up to four agents. All cocktails are shaken, not stirred, of course! Spies feeling brave can opt for the Agent Chi (a concoction of Maker's Mark Bourbon, Amaretto DiSaronno, fresh lemon juice, pomegranate juice, and a syringe of truth serum). Unwind after a long day out in the field at Undercover Spy Hour, featuring drink and appetizer specials every Wednesday through Friday from 4 – 7 p.m.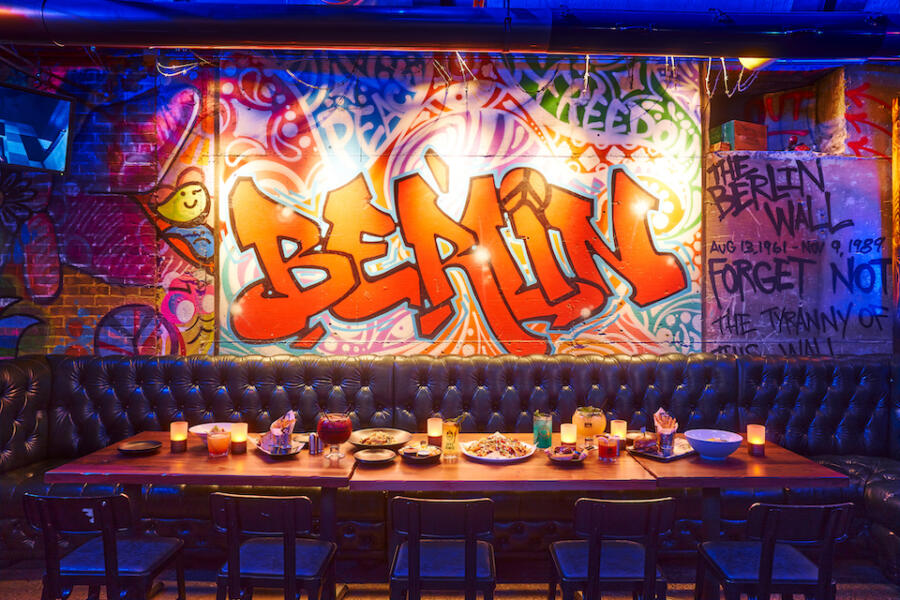 Plan your mission
SafeHouse Chicago is an exciting place to hold private parties for groups of all sizes, including adult and kids' birthdays, and bachelor and bachelorette celebrations.
Contact SafeHouse Chicago for more information, including current hours of operation.