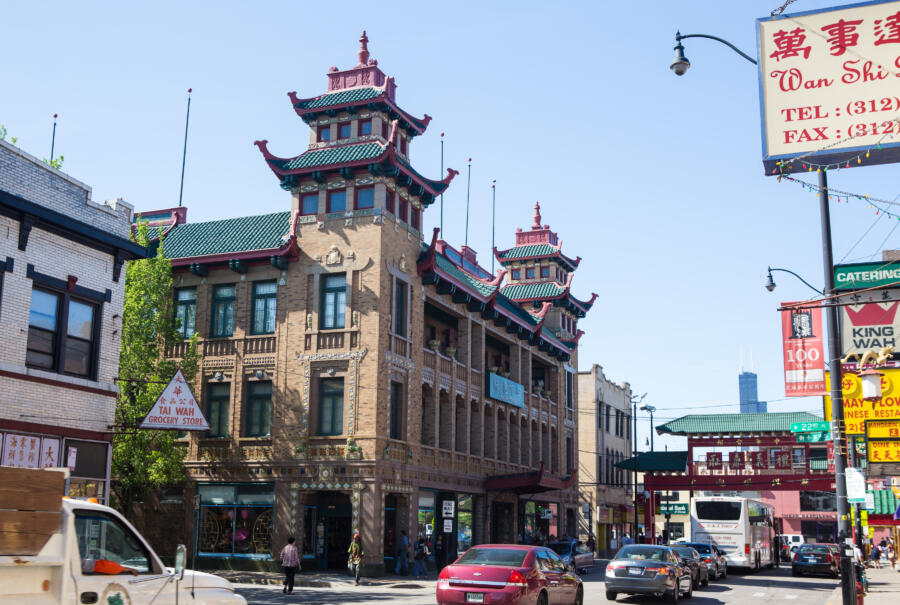 Each May is Asian American and Pacific Islander Heritage Month, giving everyone a chance to discover and celebrate the contributions and cultures of this diverse group. It's an important time to support your local AAPI community, and there are plenty of ways to do so in Chicago —  attend a cultural event, explore an international neighborhood, visit an Asian-owned restaurant or business, and more.
Here's a roundup of Chicago events, exhibits, and beyond to celebrate Asian American and Pacific Islander Heritage Month 2022.
Events and activities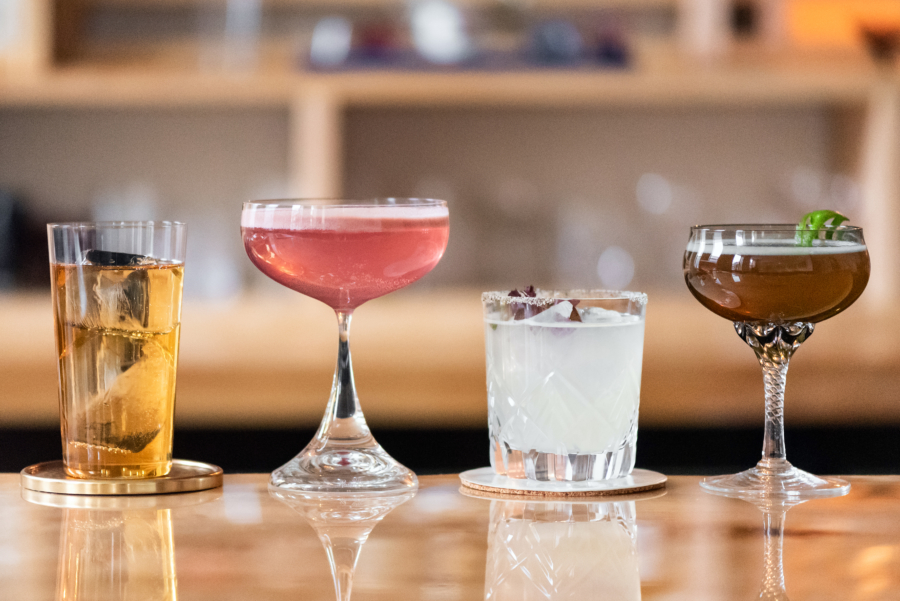 Cocktails at AAPI-owned Kumiko
Let Me Tell You: Stories of Asian American Authenticity
Join seven storytellers from Chicago's Asian-Pacific Islander community as they share how they remain true to themselves in the face of anti-Asian hate. This event is held in-person on Monday, May 7, 2022 at the Bezazian Branch of Chicago Public Library in Uptown.
AAPI Restaurant Week
Sample a variety of Asian and Hawaiian cuisines throughout the Chicago area during AAPI Restaurant Week from May 13 – 22, 2022. More than 30 AAPI-owned restaurants will be participating this year. Each spot will be offering a special deal or discount throughout Restaurant Week.
Fire + Dragons (An Asian American Circus Cabaret)
See world-class burlesque, bellydance, and fire performances at this intimate speakeasy in the Lakeview neighborhood. The show on May 26 features an all-star cast of Asian-American artists who have performed all over the world. After the show, enjoy a cocktail and a chance to meet the performers.
Book Discussion and Author Event: Jeong Soon Shin
Join a discussion with writer Jeong Soon Shin, author of a book of short stories about the experiences of Korean American immigrants. The author will discuss fiction writing and publishing for Korean language writers. The event will take place in-person on May 31, 2022 at the Chicago Public Library branch in Albany Park.
Spring Festival: Asian American Pacific Islander Heritage Month 
Celebrate the start of spring at this free event with various arts, storytelling, and crafts projects at Caldwell Park on from 1 – 3 p.m. on Sunday, May 15, 2022.
Japanese Film Festival by the Chicago Japan Film Collective
To celebrate Japanese film makers, join the Chicago Japan Film Collective as they feature various films from May 21 – 30, 2022. With a focus on work created by women, the LGBTQ community, and minority filmmakers, the festival aims to introduce Midwestern audiences to the best in independent Japanese cinema.
American Writers Festival by the American Writers Museum
This downtown museum, the first of its kind, is dedicated to American writers of all genres. Their inaugural American Writers Festival features several prominent Asian American writers, including Viet Thanh Nguyen, Karen Chee, Aanika Eragam, Kevin Gu, Maxine Hong Kingston, and more.
Exhibits & museums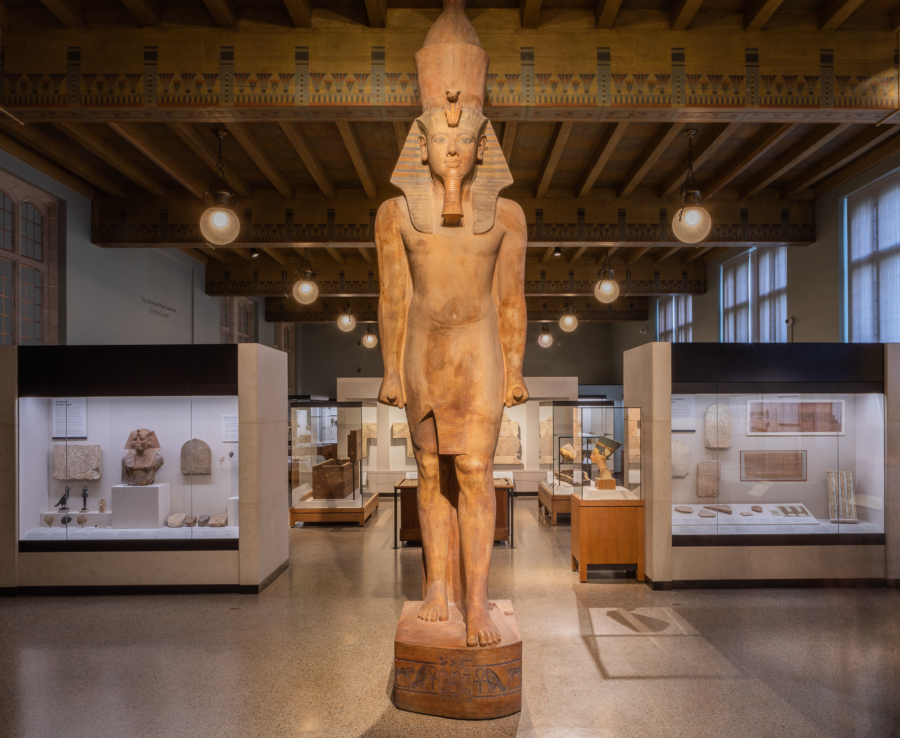 Photo by Michael Tropea
Oriental Institute
Visit the University of Chicago's world-renowned museum that houses 350,000 artifacts encompassing 10,000 years of history. Learn about the beginnings of human life and discover how people thousands of years ago forged a collective identity in the ancient Middle East, giving rise to the world's first villages, cities, and empires.
The Golden Age of Kabuki Prints
Take a trip to the Art Institute of Chicago to view the stunning works of prominent Japanese artists known for their work capturing the drama of Kabuki theater, a staple of life in 18th-century Tokyo. The exhibition draws from more than 700 prints in the museum's collection.
My America: Immigrant and Refugee Writers Today
Hear from more than 30 authors from across the globe as they celebrate, investigate, and share their unique experiences as immigrants and refugees in America. This online exhibit from the American Writers Museum was created with help from author and special advisor Viet Thanh Nguyen.
Cyrus Tang Hall of China at the Field Museum
Explore the intricacies and rich cultural history of the vast country of China and its evolution over more than 10,000 years. From recovered cargo in a sunken trading vessel to bronze weapons dating back centuries, there are a variety of artifacts to marvel at and learn from.
Chinese American Museum of Chicago
Celebrating how Chinese American culture and contributions are an important part of the American fabric, the Chinese American Museum of Chicago has a rotating schedule of exhibits and events. Currently, its exhibit Era of Opulence: Chinese Fine Dining, explores the proliferation of Chinese restaurants in the U.S. and also examines how the pandemic has negatively affected the restaurant industry, especially Chinese restaurants.
Zhou B Art Center
Founded by the internationally acclaimed Chinese-American Zhou Brothers, the Zhou B Art Center in Bridgeport was created to nurture resident artists and present contemporary art exhibitions to the public. Their current exhibition The Water Lily Pond of Life features collaborative paintings that fuse eastern and western techniques.
International neighborhoods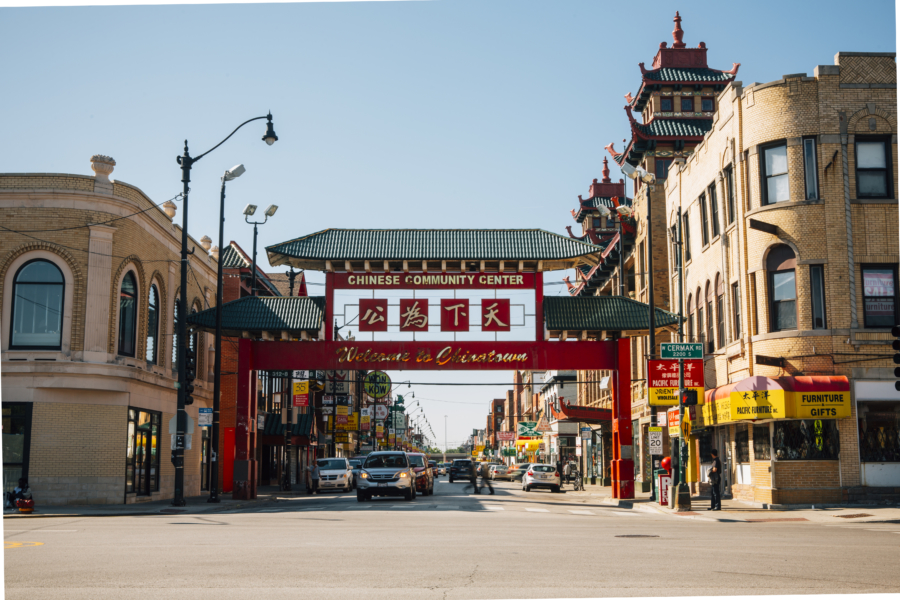 Chinatown
From architecture to shopping to some of the best bites in the city, Chicago's Chinatown reflects both traditional Chinese elements and Western influences. Visit the Chinese American Museum of Chicago, see Chinatown's Nine Dragon Wall on the corner of Cermak and Wentworth, and find your Chinese zodiac calendar animal in Chinatown Square. If you want to take a closer look at the history behind this historic neighborhood, take a 90-minute Chinatown walking tour through the Chicago Architecture Center on May 28, 2022.
Devon Avenue in West Ridge
On Devon Avenue in West Ridge sits Chicago's main cluster of South Asian restaurants with a vibrant mix of cultures and a strong feeling of community on display. From traditional bakeries to clothing shops to international grocers, the Devon Corridor, also known as "The International Marketplace," has Middle Eastern and Southeast Asian populations. Enjoy Indian, Bangladeshi, Pakistani, and vegetarian cuisine as well as bookstores, clothing stores, bakeries and more.
Asia on Argyle in Uptown
Located just off the Argyle Red Line stop in Uptown, you can find a variety of local businesses, family-owned restaurants, and supermarkets in what has become known as Asia on Argyle. Get takeout at Nha Hang or Ba Le Sandwiches and walk to the Margate Fieldhouse for a fun picnic in the park. Or, make dinner plans at Sun Wah BBQ for the best Peking duck in Chicago. Call ahead to reserve your duck, which is carved tableside and served as a three-course meal starting with soft, pillowy baos and ending with duck fried rice.
AAPI-owned businesses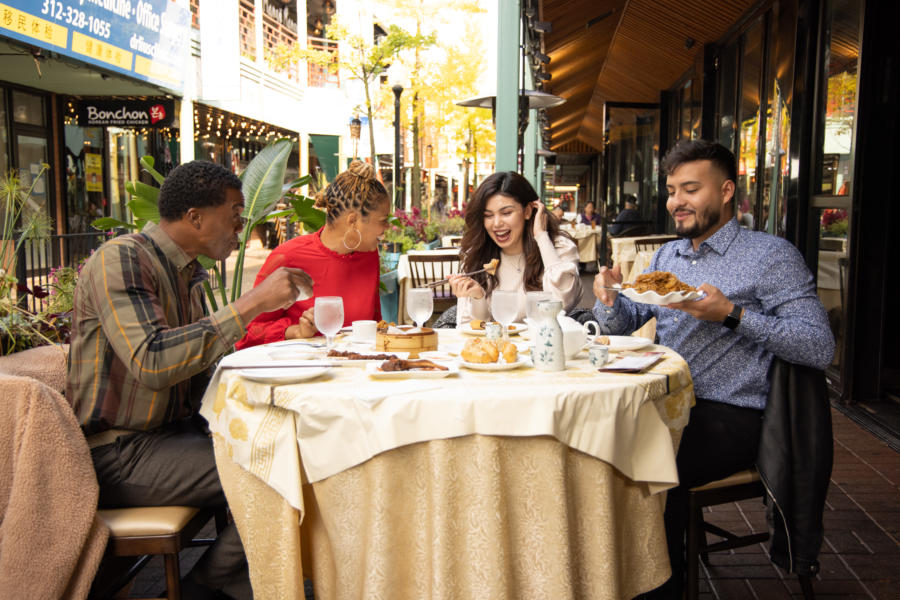 This month and every month, there are so many ways to support local AAPI-owned businesses. Check out a few of our favorites below and don't miss our interview series with local small business owners.
Aloha Eats
Apolonia
Arigato Market
Ba Le Sandwiches
Bean and Boosh
Chim Thai
Chiu Quon Bakery
Fat Miilk
Honeymoon Café 
Jennivee's Bakery
Marz Community Brewing Co.
MingHin Cuisine
Nepal House
Phoenix
Qing Xiang Yaun Dumplings
Rise and Shine Apparel
S.K.Y.
Seasons Sparkling
Seoul Taco
Sun Wah BBQ
Tous Les Jours Bakery & Cafe