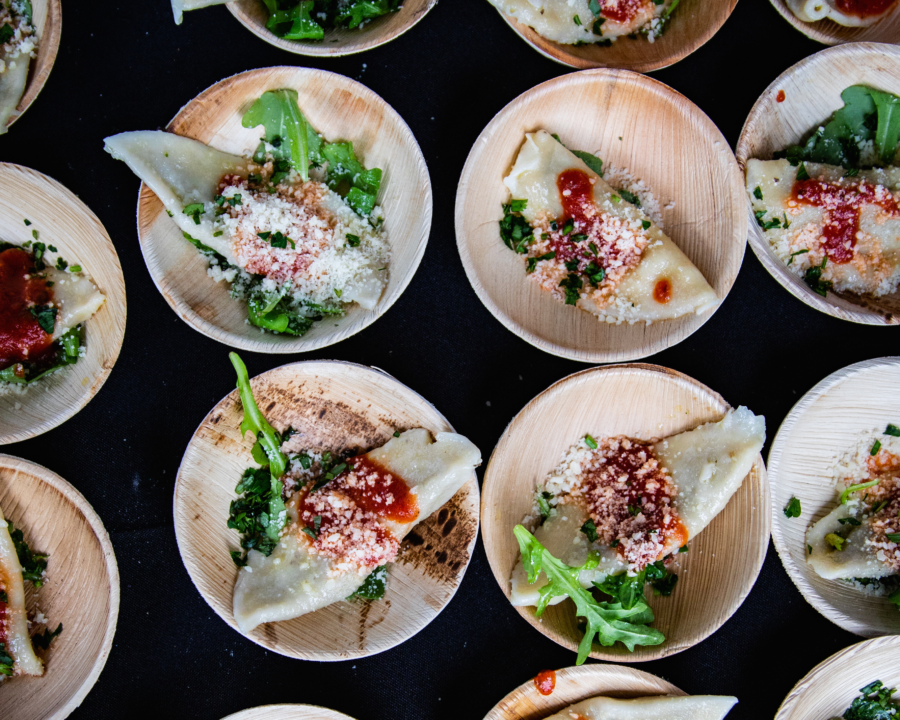 For the last 14 years, Chicago Gourmet has brought luxurious tastings and wine pairings, intimate conversations with local chefs, and the camaraderie of standing shoulder-to-shoulder with fellow foodies from Chicago and beyond.
This year, there won't be a traditional Grand Tasting event in Millennium Park — but the top-tier food festival is still offering an inventive lineup of specialty dinners, upscale tastings, burger showdowns, and more on the Harris Theater Rooftop. Here's what you need to know about Chicago Gourmet 2022 — and don't forget to grab your tickets for this year's many events.
A brand new Oktoberfest event
Sunday, Sept. 25, 2022
1 – 4 p.m.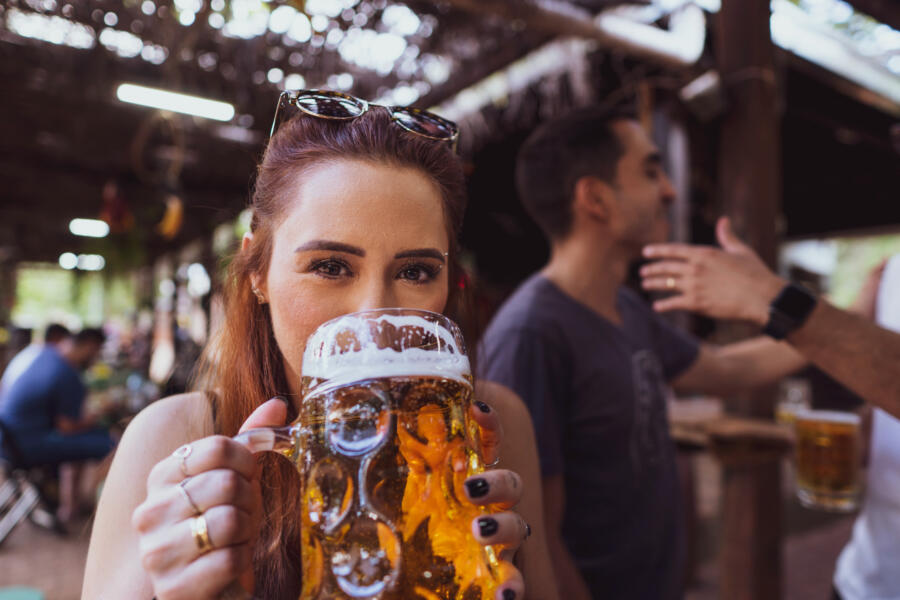 Grab a pretzel and raise your stein. It's time for Prost! in the Park, debuting for the first time this year on the Harris Theater Rooftop. The ultimate Sunday Funday, this gourmet Oktoberfest-inspired event features German cuisine, live music, fun cocktails, and lots of cold beer. Lederhosen not required (but encouraged!).
Participating chefs include:
Chef Brian Ahern, Boeufhaus
Chef D'Andre Carter, Soul & Smoke
Chef Leigh Omilinsky, Swift & Sons
Chef Tigist Reda, Demera Ethiopian Restaurant
Chef Darnell Reed, Luella's Southern Kitchen
Chef Mark Steuer, Funkenhausen
Chef Bailey Sullivan, Monteverde Restaurant & Pastificio
Chef Paul Virant, Vie, Vistro Prime and Gaijin
And more!
Get tickets today.
The biggest ever Grand Cru tasting
Saturday, Sept. 24 2022
2 – 5 p.m. and 7 – 10 p.m.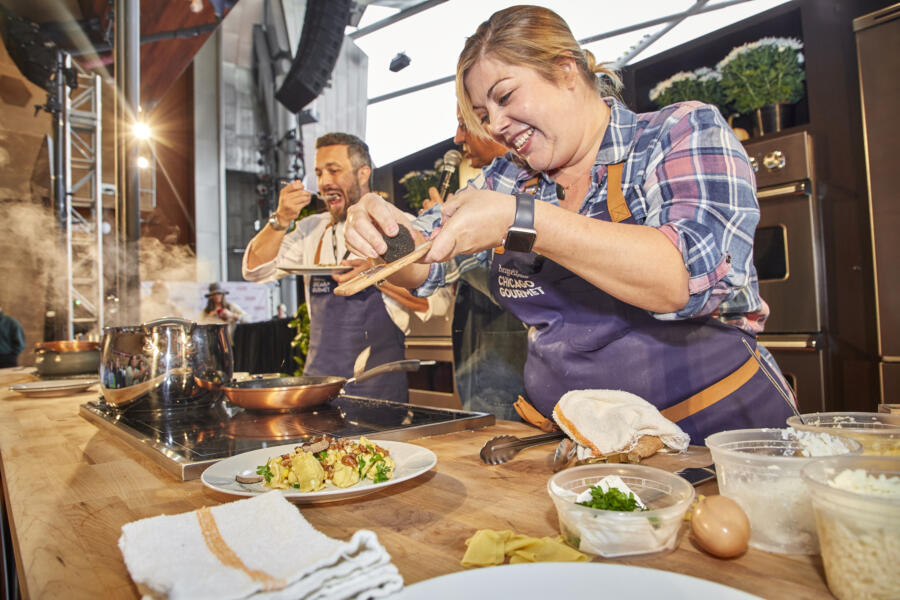 In place of the Grand Tasting event, this year's Chicago Gourmet will be centered around the Grand Cru. This exclusive and intimate tasting event takes place on the Harris Theater Rooftop, tucked away in scenic Millennium Park.
Guests will be able to sip the world's finest wines curated by master sommeliers, served with bites from the city's top chefs (like Beverly Kim, Stephanie Izard, Thai Dang, Joe Flamm, and more). This year's event will also feature an expanded emphasis on craft spirits with master mixologists creating unforgettable cocktail creations.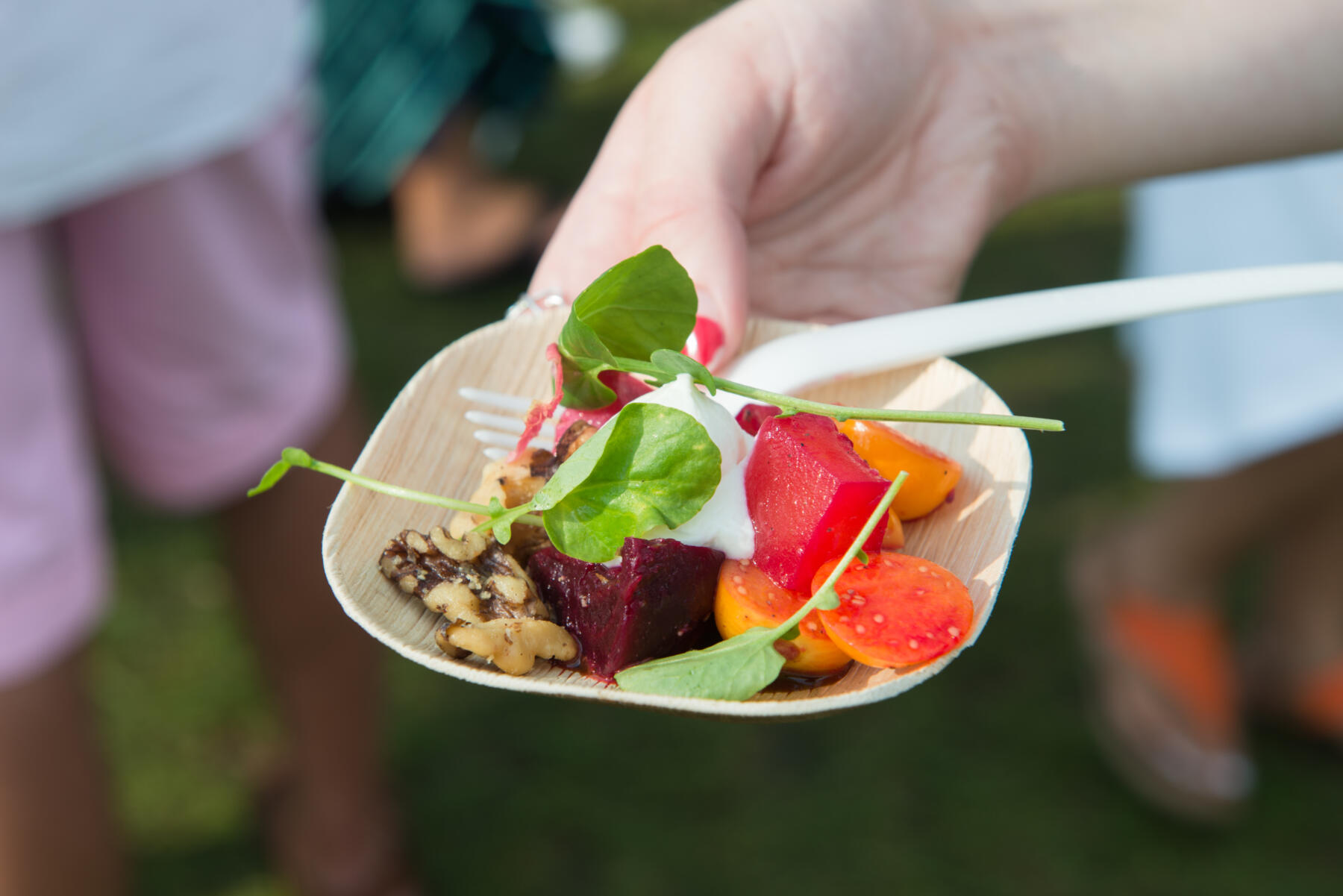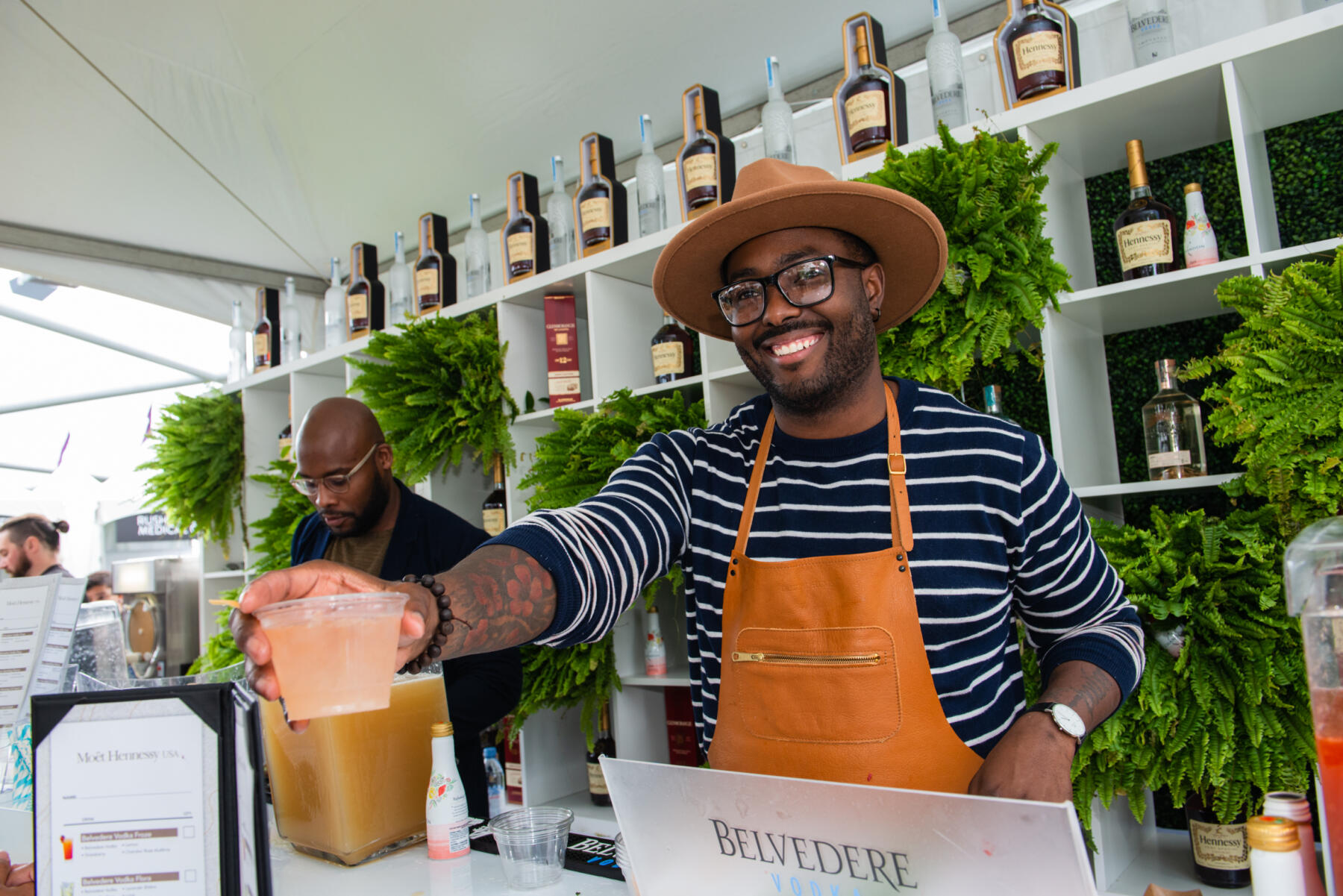 Guests can choose from two sessions that feature different chef lineups:
Session 1 (2 to 5 p.m.)
Chef Joe Flamm, Rose Mary & BLVD
Chef Justin Gomes, Travelle at The Langham
Chef Daniel Huebschmann, Gibsons Restaurant Group
Chef Stephanie Izard, Girl & The Goat, Little Goat, Duck Duck Goat, and more
Chef Beverly Kim, Wherewithall
Chef Devin Kreller, Wood
Chef Veah Larde, Two Sisters Catering
Chef Martial Noguier, Bistronomic
Chef Alex Pitts, Bazaar Meat and bar mar
And more!
Session 2 (7 to 10 p.m.)
Chef Vanessa Brown, Kitchen + Kocktails
Chef Thai Dang, HaiSous
Chef Juan Jimenez, Norman's Bistro
Chef Dominique Leach, Lexington Betty's Smokehouse
Chef Lamar Moore, River North Entertainment and Bar
Chef Hisanobu Osaka, Lettuce Entertain You Enterprises
Chef Dylan Patel, avec and bar avec
Chef Devon Quinn, eden
Chef Jenner Tomaska, Esme
And more!
Get your tickets today.
The fan favorite Hamburger Hop
Friday, Sept. 23, 2022
6 – 9 p.m.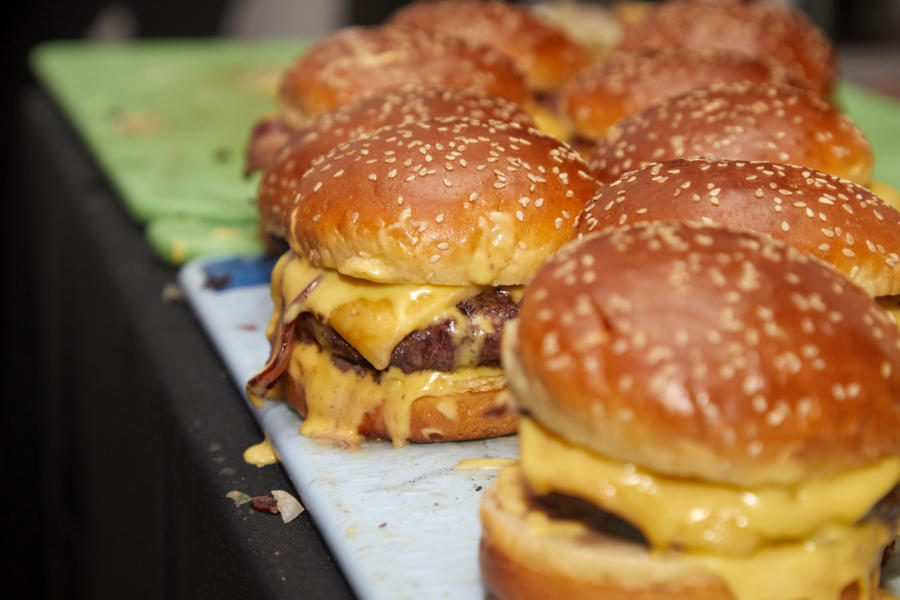 Many a Chicago eatery prides itself on its burger. Take part in the Hamburger Hop to help crown a winner. Enjoy gourmet and specialty burgers from the local establishments taking part in this year's Hamburger Hop, one of Chicago Gourmet's most beloved events.
Hosted by famed chef Stephanie Izard, the tasting event at Harris Theater Rooftop will let guests sample some of the best burgers in the city, alongside wine, beer, and spirits. The winner of the People's Choice and Judge's Choice award will be crowned at the end of the evening.
This year's Hamburger Hop competition chefs include:
Chef Susu Barakat, S2Express Grill
Chef Nick Barnhart, Epic Burger (2021 Hamburger Hop Citywide Winner)
Chef James Giacometti, Lardon and Union
Chef Becca Grothe, TriBecca's Sandwich Shop
Chef Brian Jupiter, Frontier
Chef Clinton Payne, Mikkey's Retro Grill
Chef Brian Rodriguez, Adorn
And more!
Get your tickets today.
Plus, don't miss the official Hamburger Hop after party — Late Night Gourmet. Keep the party going with late-night bites, specialty cocktails, music, and dancing at TAO Chicago.
An evening of tacos and tequila
Thursday, Sept. 22, 2022
7 – 10 p.m.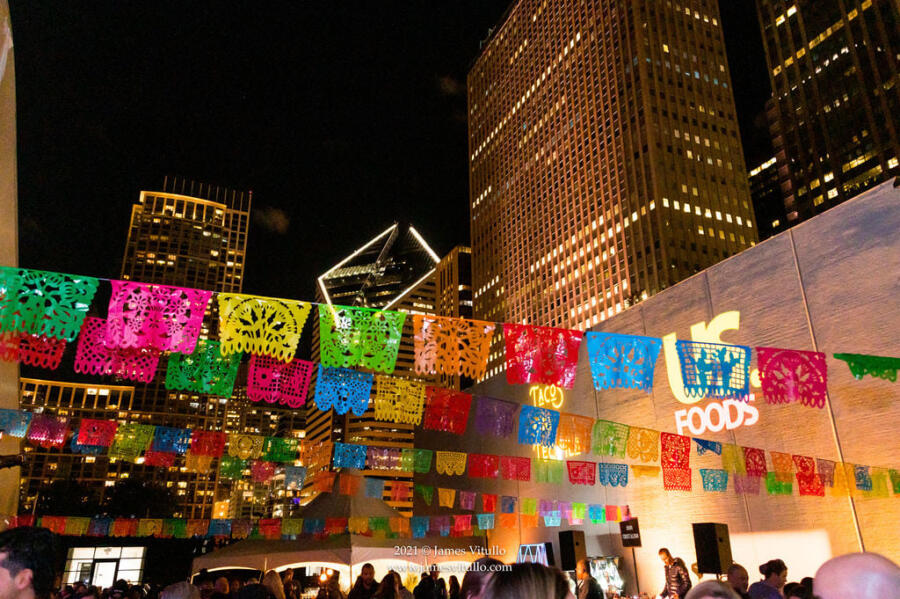 Join acclaimed chef Rick Bayless for a one-of-a-kind evening of gourmet tacos and agave spirits, led by the city's leading experts on authentic Mexican cuisine. Diners will enjoy premium tequilas and mezcals, a live DJ, mojigangas and mariachi performances, and (of course) tons of tacos.
The Tacos & Tequila lineup includes:
Host Chef Rick Bayless, Frontera Grill, Topolobampo, XOCO and more
Chef Marcos Ascencio, Taqueria Chingon
Chef Michelle Bernstein, Café La Trova, La Cañita and Sweet Liberty
Chefs Inocencio and Marcos Carbajal, Carnitas Uruapan
Chef Marco Colin, La Luna
Chef Elizabeth Godines, La Lagartija
Chef Maria G. Landa, Rubi's on 18th
Chef Rick Ortiz, Antique Taco
Chef Saúl Román, Tabú
Chef Yani Sanchez, Bar Takito
Chef Andrew Sikkelerus, Barrio
Chefs Jaime and Alfonso Sotelo, Cinco Rabanitos and Chile Toreados
Get your tickets today.