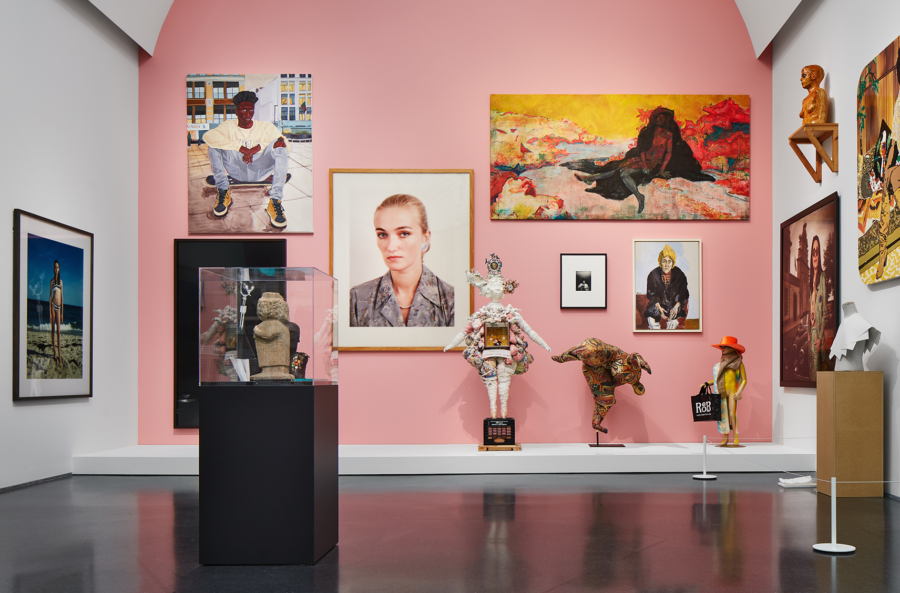 Chicago is a city filled with an expansive art and design history. In a new exhibition titled Duro Olowu: Seeing Chicago, the internationally acclaimed fashion designer attempts to connect the elements of Chicago's diverse cultural scene into one dynamic experience.
The largest multi-collection show that the Museum of Contemporary Art has ever displayed, the temporary exhibit showcases close to 350 pieces, which are carefully curated by Olowu and includes many pieces that have never been shown publicly. The MCA recently reopened with a new visitor path to increase social distancing and separate hours for high-risk visitors.
In Seeing Chicago, the British-Nigerian designer selects paintings, photographs, textiles, sculptures, and film from private and public collections from the Art Institute, Southside Community Art Center, and Intuit: The Center for Intuitive and Outsider Art, as well as the MCA's own collections. The exhibit also includes some of Olowu's most iconic designs.
Here's a preview of the ground-breaking exhibit, now open through Sept. 27, 2020. You can see it for free through Aug. 30 — reserve your free tickets online today.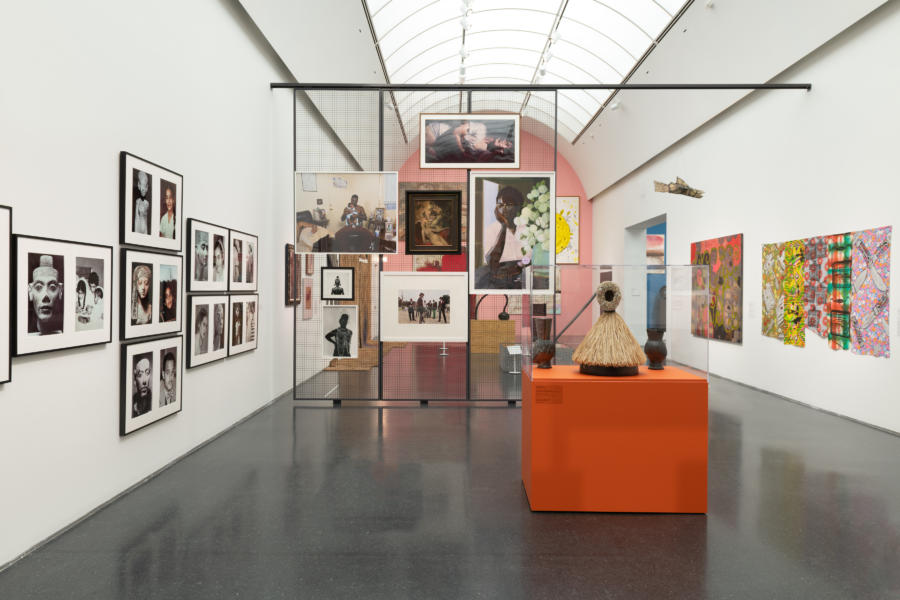 Installation view, Duro Olowu: Seeing Chicago, MCA Chicago Feb 29-May 10, 2020 Photo: Nathan Keay, © MCA Chicago
Chicago artist display
The opening gallery unfolds with a vivid arrangement of pieces from Chicago artists. Amanda Williams' photographs of boldly painted houses in Chicago's Englewood neighborhood line one wall. An in-your-face Judy Chicago abstract painting hangs on another, across from a Nick Cave sound suit. In the corner, you'll find multi-media totems from AfriCOBRA artists, the African American artist collective formed in 1968 in Chicago.
"People need to be reminded about AfriCOBRA," said Olowu during the exhibit opening. "It was the Bauhaus movement of Chicago. There were boutiques, centers, it was a real movement."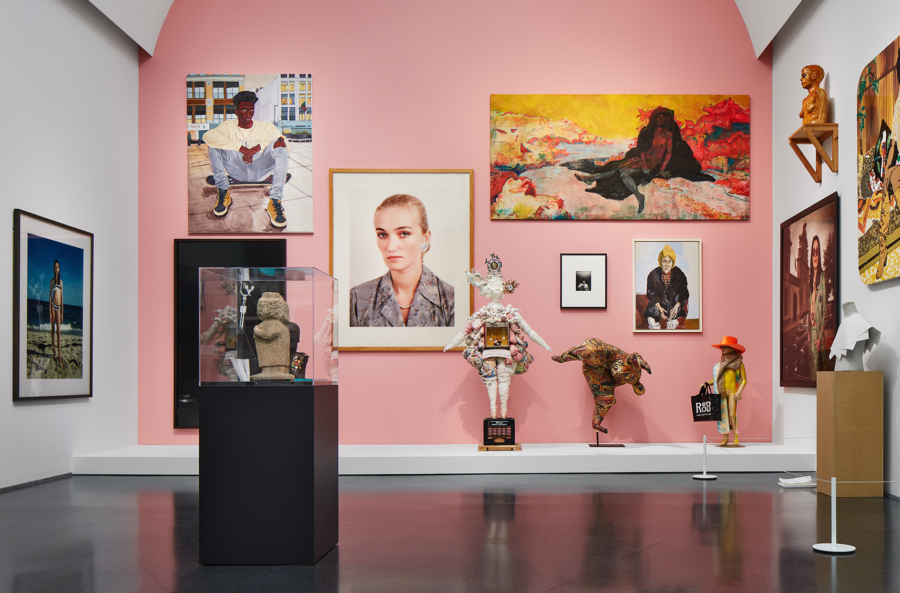 Installation view, Duro Olowu: Seeing Chicago, 2020. Photo: Kendall McCaugherty.
Portraits on view
Traditional portraits are often static and one-dimensional, but Olowu creates a room brimming with pieces that invite engagement. Titled "Look At Me," the space displays portraits that connect with viewers in different ways. A host of faces, poses, and backdrops stare out from a petal pink wall. Artists represented here include Alice Neel, Lorna Simpson, Kerry James Marshall, and Barkley L. Hendricks. "There is an exchange that works in conversation here. It's you watching them and them watching you," said Olowu.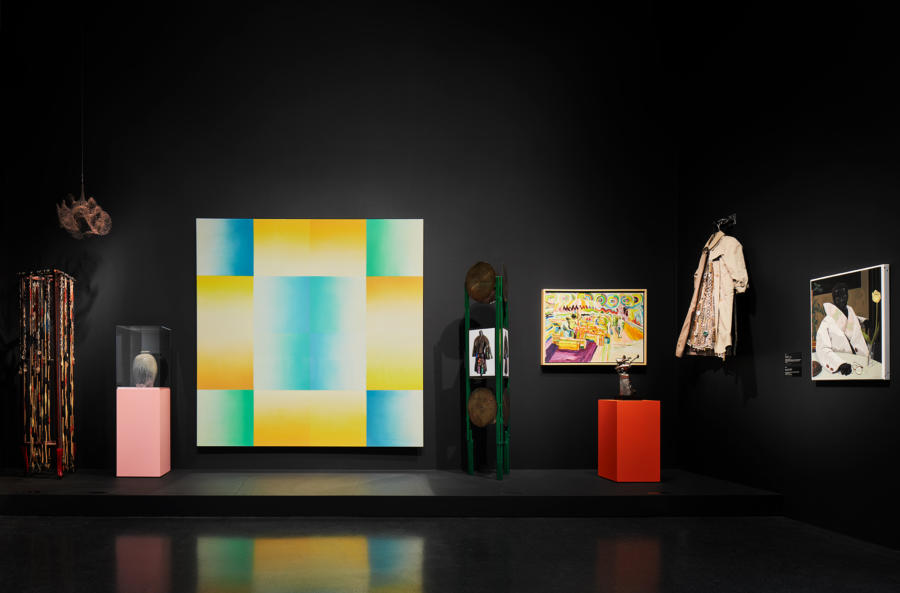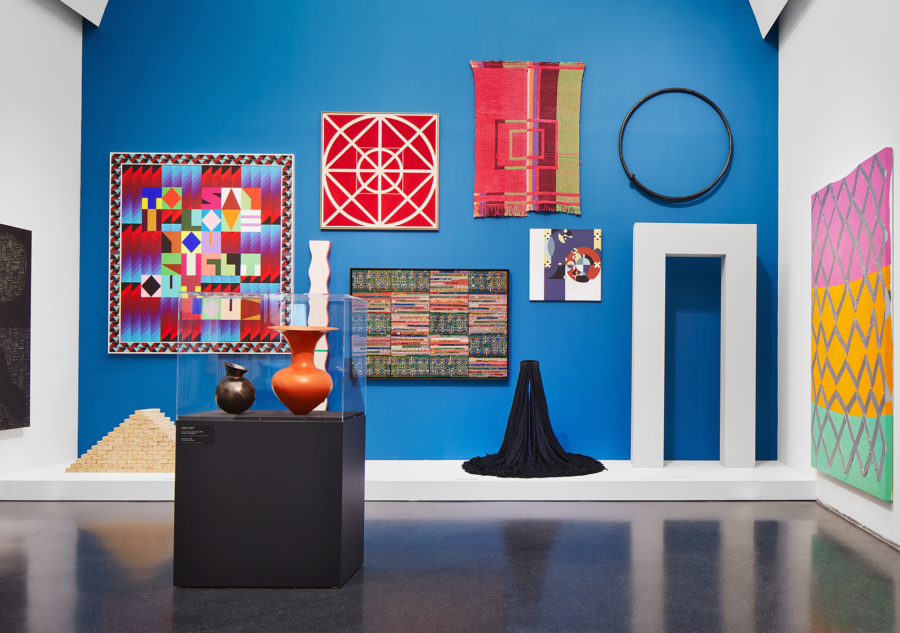 Installation view, Duro Olowu: Seeing Chicago, 2020. Photo: Kendall McCaugherty.
Conceptional designs
Sculptures, textiles, and indigenous symbols form an exciting tableau in a gallery titled "Toward Abstraction." The clean lines of a Martin Puryear structure contrasts with the technicolor painting of Leon Golub. Traditional Native American tapestries unfold against a bright turquoise wall and Jack Whitten's textured art work joins to form a room filled with three-dimensional, multimedia pieces.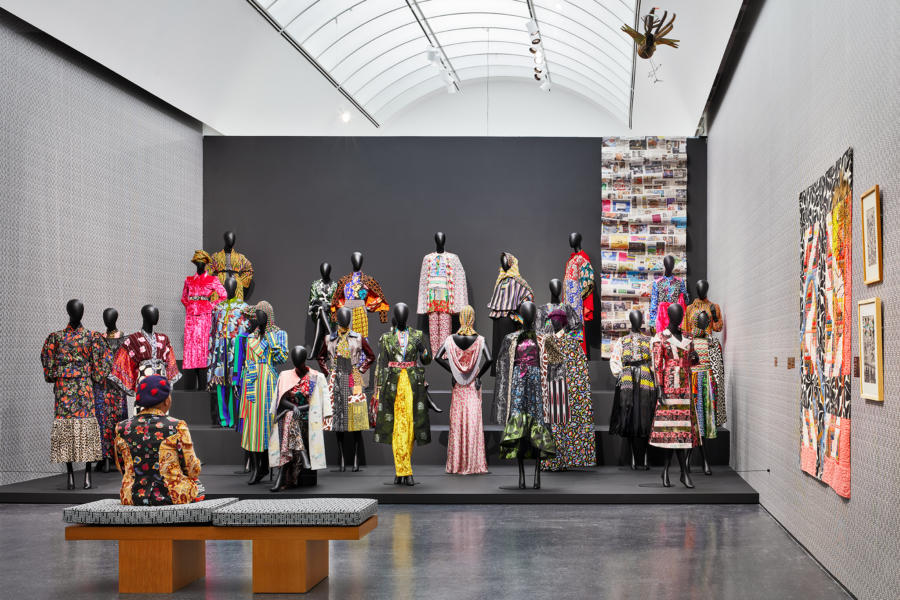 Installation view, Duro Olowu: Seeing Chicago, 2020. Photo: Kendall McCaugherty.
Fashion finale
The final gallery includes some of the most arresting art of the last century, including pieces by Jean Arp, Lari Pittman, and Yto Barrada, clustered against a wall. On the other side of the room, 30 mannequins clothed in Olowu's signature colorful printed designs from the last 14 years, stand poised to observe the views. Like all the pieces in Duro Olowu: Seeing Chicago, the mannequins encourage an interaction with viewers. "They are looking at the art and at you," he explained.
Duro Olowu: Seeing Chicago, through Sept. 27 at Museum of Contemporary Art, 220 E. Chicago