Have you ever walked by a building and thought "I wonder what that looks like inside?" Maybe it's the old-school brewery in your neighborhood or that new, glitzy high-rise downtown. Well, now is your chance to take a peek behind closed doors. This month, Open House Chicago — the city's free, public architecture festival — returns with in-person site visits on Oct. 16 and 17.
During this weekend event, you'll have the opportunity to explore more than 100 unique sites across 30 Chicago neighborhoods, including historic landmarks, architectural marvels, and soaring skyscrapers, some of which are rarely open to the public. Here are 11 new and interesting sites to get you started.
Before you head out, keep in mind that all sites will be following any city-mandated COVID-19 protocols (masks are currently mandatory indoors), and some venues might require proof of vaccination for entry. 
The Givins Castle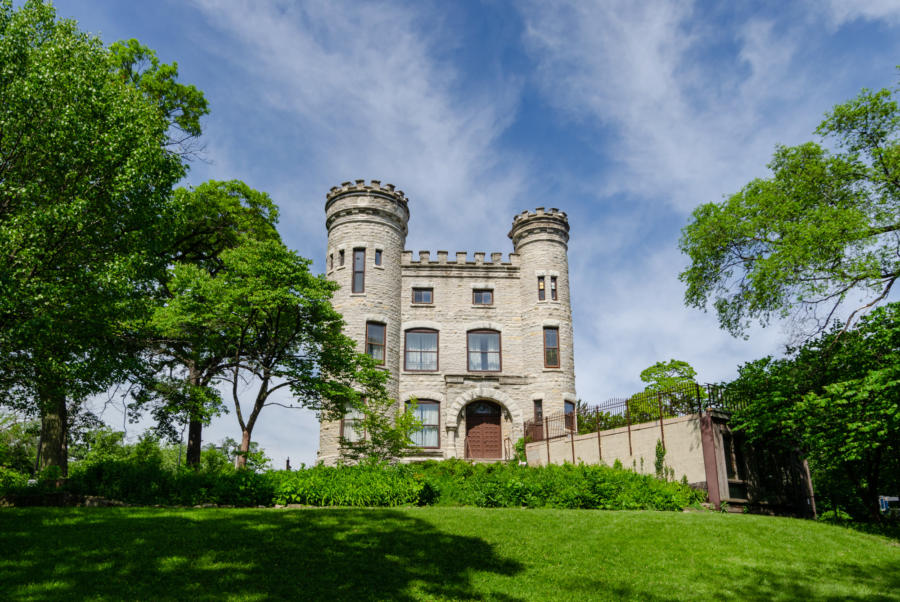 The Givins Castle in Chicago's Beverly neighborhood. Photo by Eric Allix Rogers.
Open House is the perfect chance to step inside Chicago's most famous (and only!) castle. The Givins Castle was built in the Beverly neighborhood in 1887 as a lavish private residence for Robert C. Givins, inspired by an Irish estate he once visited. The castle, which has only ever had five owners, is now home to the Beverly Unitarian Church. Visitors can explore the ornate building — constructed out of solid limestone mine in nearby Joliet — to get a sense of what it might have been like to live like 19th century "royalty."
10255 S. Seeley Ave.
Saturday, Oct. 16, 10 a.m. – 5 p.m.
Sunday, Oct. 17, 10 a.m. – 5 p.m.
Boxville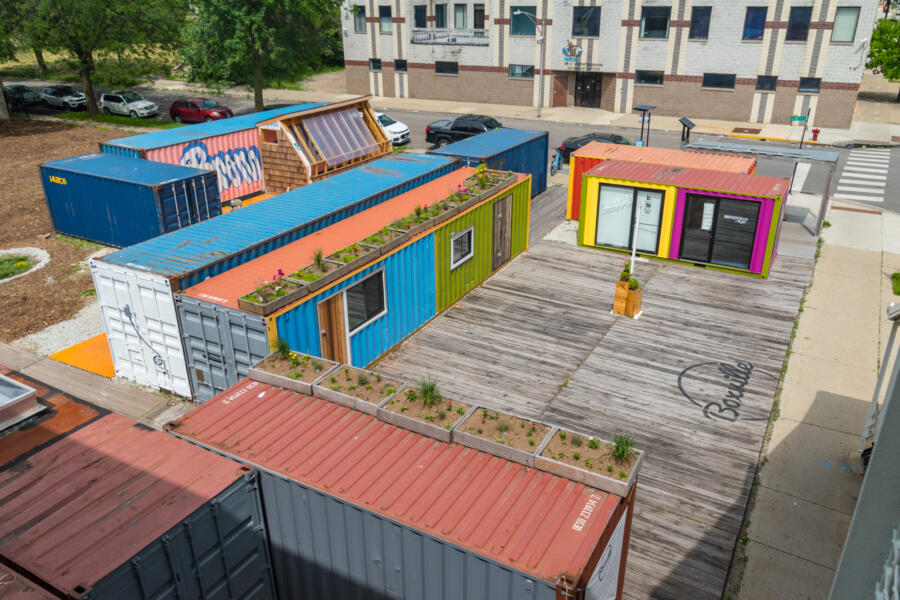 Boxville in Chicago's Bronzeville neighborhood; photo by Eric Allix Rogers
Experience Chicago's first shipping container-based retail and street food center at Boxville. The award-winning marketplace in the Bronzeville neighborhood started with a single box in 2014 and has evolved into a 17-container community that serves as an incubator for art, music, food, and micro businesses that operate out of the colorful shipping containers. Take a tour with Boxville's founders, where you can tour in-progress and complete containers and learn more about how the entrepreneurs go from concept to full-fledged enterprise. While you're there, check out the market's many Black-owned businesses, like vegan restaurant Conscious Plates, coffee pop-up Southside Grinds, and botanical apothecary The Meta House.
332 E. 51st St.
Saturday, Oct. 16, 12 p.m. – 5 p.m.
Sunday, Oct. 17, 12 p.m. – 5 p.m.
The Plant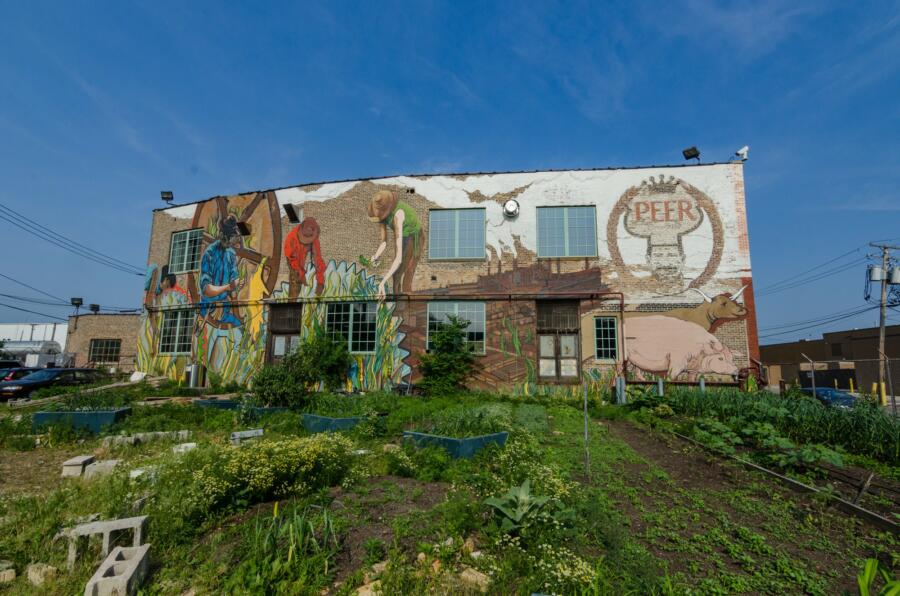 The Plant in Chicago's Back of the Yards neighborhood. Photo by Eric Allix Rogers.
A beacon of sustainability in Chicago's Back of the Yards neighborhood, The Plant lives inside a former firehouse that's been converted into a hub for food-based small businesses. Guests can go on a guided tour of the facility and explore the indoor growing spaces for plants and fungi, outdoor classrooms, marketplace, teaching kitchen, composting area, and event space. You'll even be able to check out some food production spaces that are typically not open to the public. When you're done looking around, stop by the Whiner Beer Company's in-house taproom for a pint or check out the food and drink made at The Plant that will be available for purchase.
4459 S. Marshfield Ave.
Saturday, Oct. 16, 10 a.m. – 5 p.m.
Bank of America Tower
Bank of America Tower in Chicago's Downtown neighborhood. Photo courtesy of Bank of America Tower
Soaring 55 stories into the air, the Bank of America Tower in the Loop is a new addition this year to Open House Chicago. The skyscraper is the tallest commercial office building that has been completed in Chicago in the past 30 years, featuring a 41-foot-high marble lobby surrounded by a cable-supported, ultra-transparent glass wall. Visitors will have the opportunity to explore normally restricted areas of the building, including the panoramic city views on the 55th floor.
110 N. Wacker Dr.
Saturday, Oct. 16, 10 a.m. – 5 p.m.
Sunday, October 17 10 a.m. – 5 p.m.
Birch Road Cellar
Want to join a secret club? Visit Birch Road Cellar — a private lounge that's only accessible via fingerprint scan — for your chance. This hidden loft space in Chicago's Lincoln Park neighborhood is the city's first BYOB wine club, where members can bring a bottle of their favorite wine and enjoy a good drink and good conversation. The intimate, loft-like space attracts those who are looking for a quiet and affordable alternative to the hassle and crowds of traditional bars. Guided tours of the space will begin every 15 minutes. 
1113 W. Armitage Ave.
Saturday, Oct. 16, 10 a.m. – 5 p.m.
Sunday, Oct. 17, 10 a.m. – 5 p.m.
Saints Volodymyr and Olha Ukrainian Catholic Church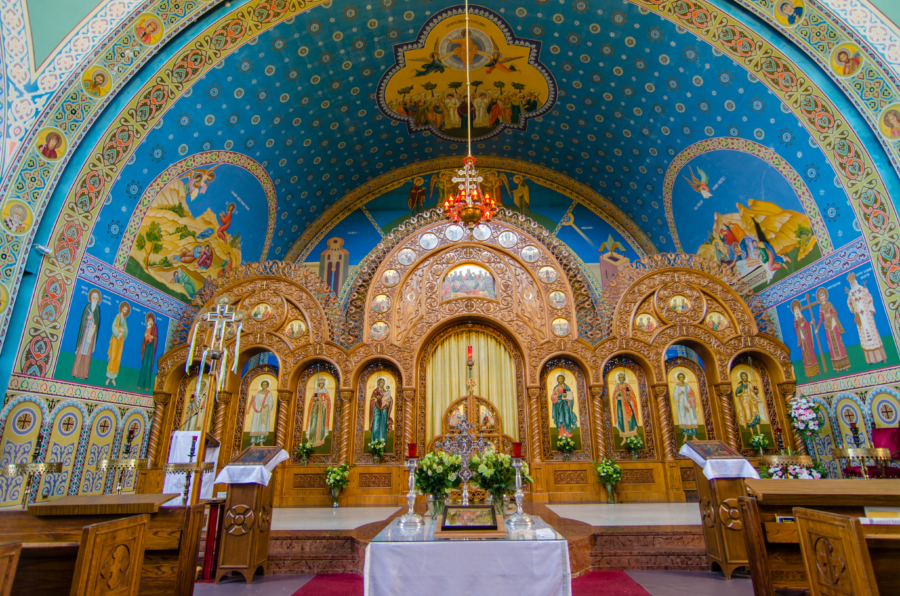 Saints Volodymyr & Olha Church; Photo by Eric Allix Rogers
Gaze upon the pointed arches, ribbed vaults, and flying buttresses of Saints Volodymyr and Olha Ukrainian Catholic Church. Originally founded in 1916, it moved to its current location in the Ukrainian Village pocket of Chicago's West Town neighborhood in 1945. The church was the center of the city's Ukrainian Orthodox community for 30 years, but you don't have to follow this faith to admire the beauty of the Eastern-Byzantine interiors in this storied building. The soaring interior and cobalt blue ceiling attracts visitors from around the city every year.
739 N. Oakley Blvd.
Saturday, Oct. 16, 10 a.m. – 5 p.m.
Sable Hotel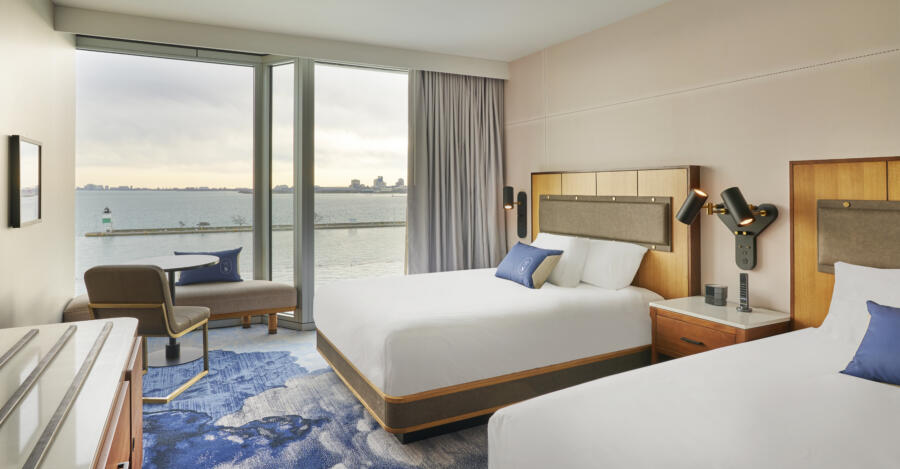 Photo by Mike Schwartz
Start planning your next vacation (or staycation) when you visit the Sable Hotel. Navy Pier's first hotel — and a new Open House Chicago addition — has 223 rooms, all featuring views of Lake Michigan and Chicago's skyline. The Streeterville hotel is designed to evoke the Pier's history as a port by incorporating features like weathered brass and a neutral color palette, punctuated with pops of blue and blue-green. Afterward, stop by the hotel's Latin-inspired restaurant Lirica for more waterfront views.
900 E. Grand Ave.
Saturday, Oct. 16, 10 a.m. – 2 p.m.
Sunday, Oct. 17, 10 a.m. – 2 p.m.
Lake Effect Brewing Company
Haven't heard of Lake Effect Brewing Company? That might be because this local craft brewery only distributes its small-batch brews to restaurants, bars, and stores within a few miles of its Irving Park location. The entrance can be found tucked into an alley behind a costume shop. Check out the operation on your own or take one of the guided tours offered every 30 minutes. And don't miss the chance to try some of Lake Effect's inventive beers — their on-site bottle shop sells a variety of options, like their Inland Seas series of beers focused on each of the Great Lakes. 
4727 W. Montrose Ave., Suite C
Saturday, Oct. 16, 10 a.m. – 5 p.m.
Sunday, Oct. 17, 10 a.m. – 5 p.m.
Working Bikes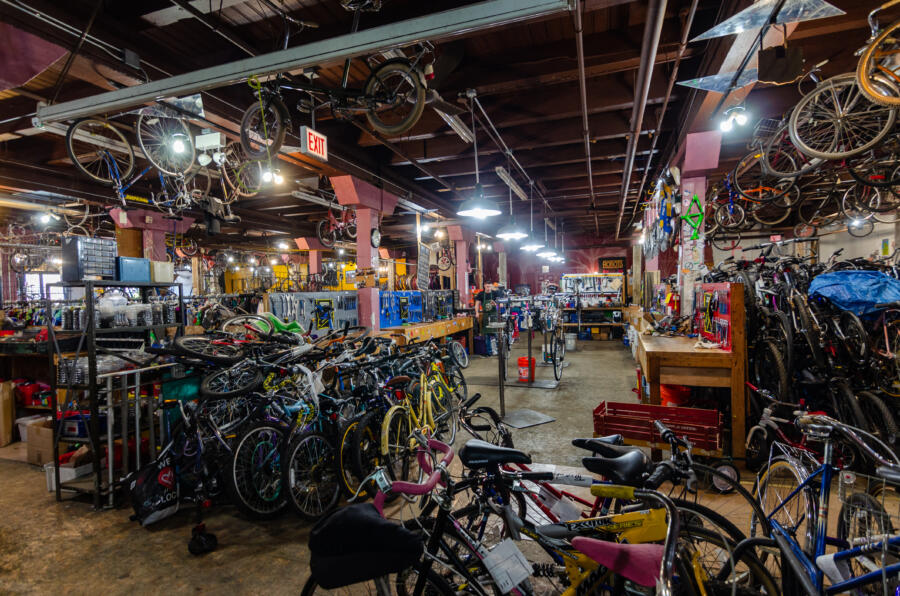 Working Bikes in Chicago's Little Village neighborhood. Photo by Eric Allix Rogers
In Little Village, Working Bikes is a local nonprofit group that provides the community — and the world — with affordable bicycles. The company collects and refurbishes bikes that have been discarded or donated, then sells them to neighborhood residents or ships them to countries where cheap transportation is most needed. They'll be offering tours of their Little Village warehouse, which is basically a bicycle museum overflowing with hundreds of unique makes and models.
2434 S. Western Ave.
Saturday, Oct. 16, 11 a.m. – 5 p.m.
Lang House Chicago
Lang House in Rogers Park, just steps from Lake Michigan, is a unique space that's not typically open to the public. The house, built as a private home in 1919, was once a boarding house for Mundelein Women's College, or what you might know now as Loyola University. Step inside to admire the murals, mosaiced walls, and leaded glass windows of this historic property, all housed inside a stucco exterior. If you fall in love with this home, you can consider booking it for your next vacation rental or special event, too. 
7421 N. Sheridan Rd.
Saturday, Oct. 16, 10 a.m. – 5 p.m.
Sunday, Oct. 17, 12 p.m. – 5 p.m.
Revolution Workshop
The next time you need a plumber, electrician, or carpenter, you might be able to thank Revolution Workshop. This nonprofit organization helps unemployed and underemployed adults prepare for careers in construction. Visit their soda-bottling-facility-turned-workshop in Garfield Park during Open House to tour model houses built by trainees, watch demonstrations of various power and hand tools, and see custom furniture in different stages of production.
3410 W. Lake St.
Saturday, Oct. 16, 10 a.m. – 5 p.m.
Sunday, Oct. 17, 10 a.m. – 5 p.m.
If you can't get enough of Open House Chicago, download the event's mobile app to explore neighborhood trails and virtual experiences throughout the entire month of October.