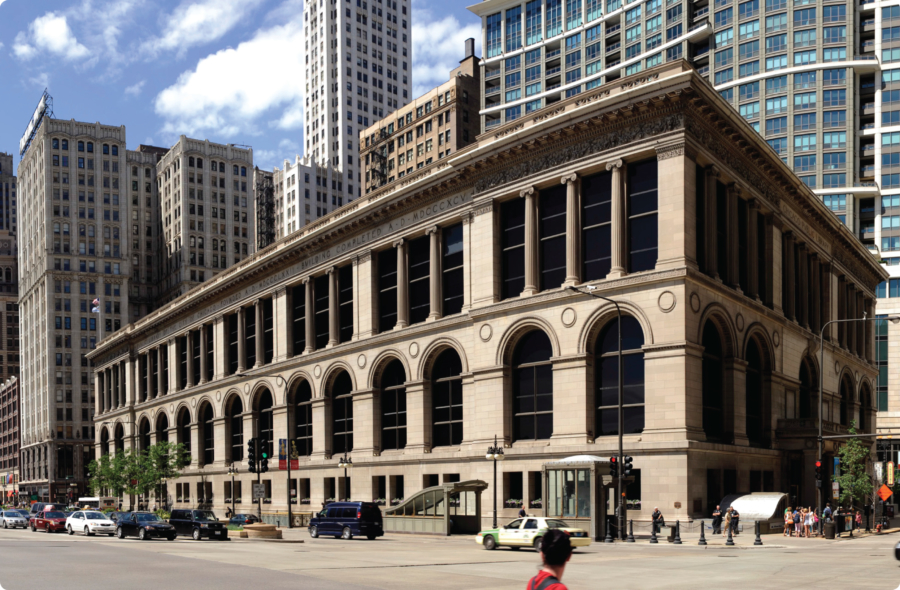 Architecture can be so much more than the decoration to our cities. It can be a symbol of history, growth, and hope, or even inequality. That's what the fourth edition of the Chicago Architecture Biennial will ask you to think about during its run from Sept. 17 – Dec. 18.
Through a diverse collection of exhibitions, commissions, workshops, and performances from a mix of local organizations and international contributors, the fourth edition of the festival — entitled The Available City — invites you to join the conversation in person and online about how we can better use shared spaces throughout the city by transforming some of Chicago's vacant lots and other community spaces into thought-provoking works of art and places for neighborhood engagement.
There are 18 worthy exhibitions across 10 neighborhoods to choose from, but here are six to get you started.
Go mini-golfing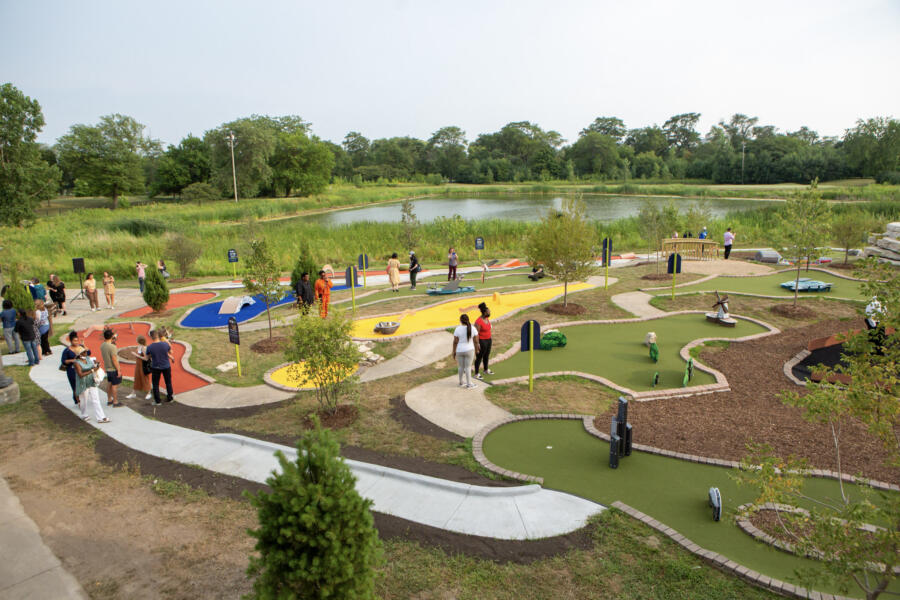 Douglass mini golf; photo by Aaron Magana
Chicago's North Lawndale neighborhood welcomed a new mini-golf course this summer. Well, sort of. The Douglass 18 initiative — comprising a group of young adults and community partners on Chicago's west side — revitalized an existing mini-golf course in the neighborhood and redesigned it under the theme of bird conservation. The project is also supported by the Lincoln Park Zoo.
Who should go: Anyone interested in playing a round of putt-putt, looking for some physical activity, or anyone who simply appreciates some green space in the concrete jungle.
How to see it: The course opened to the public in North Lawndale on Aug. 7.
Admire modern art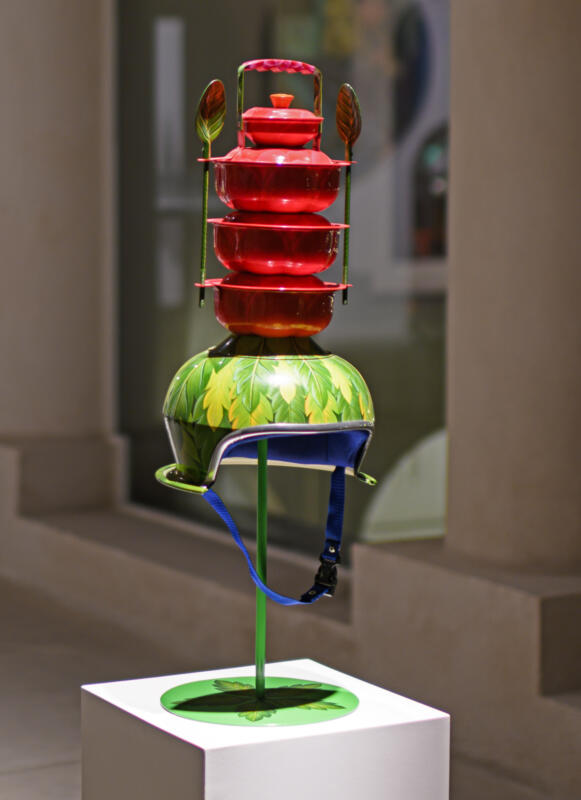 Chicago's Museum of Contemporary Art (MCA) is always full of thought-provoking pieces of art. For the biennial, you can check out the exhibition, Bani Abidi: The Man Who Talked Until He Disappeared, the latest work from Pakistani artist Bani Abidi. The work explores cosmopolitanism through semi-fictional scenes of everyday life informed by her experience living in cities, including Chicago.
Who should go: Fans of the artist's work, anyone who has never been to the MCA, or anyone who has been looking for a reason to visit again
How to see it: The exhibit will be up at the MCA near The Magnificent Mile beginning Sept. 4.
There's no place like home
In Edgewater on Chicago's north side, discover art that may offer you a different perspective on the meaning of "home." RAISIN, an exhibition inspired by Lorraine Hansberry's play, A Raisin in the Sun, will feature artwork that explores themes of first-time homeownership, gender dynamics within communities of color, generational dreams, and more.
Who should go: Theatre buffs, art geeks, or anyone looking to broaden their worldview.
How to see it: The exhibit is being presented at 6018North in the Edgewater neighborhood.
Relax outdoors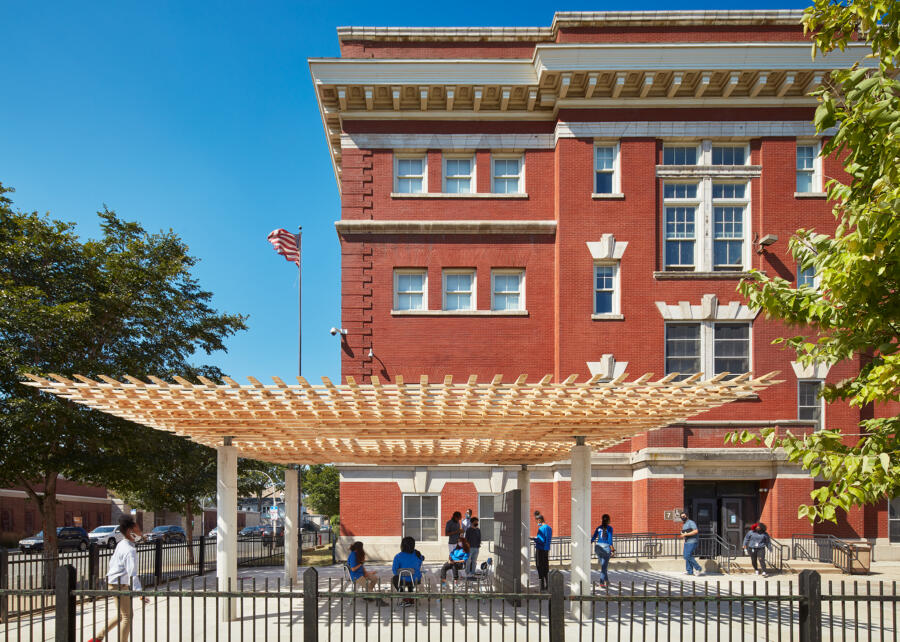 Kendall McCaugherty, HallMerrick Photographers
Epic Academy in the South Shore neighborhood of Chicago is getting a new outdoor pavilion. Architecture firm Skidmore Owings and Merrill partnered with Tsz Yan Ng and Wes McGee from the University of Michigan's Taubman College of Architecture and Urban Planning to use robotic fabrication techniques and sustainably sourced timber to design and construct the pavilion. The structure will serve as an outdoor classroom for the school, as well as a performance space.
Who should go: Fans of architecture, sustainable building, or anyone hoping to find a new place for a picnic.
How to see it: The pavilion will be on display at Epic Academy in South Shore starting Sept. 17.
See how a former post office has been transformed
At Studio Gang's new gallery space in Chicago's Wicker Park neighborhood, see the organization's collaboration with apparel manufacturing workers co-op Blue Tin Production to transform the space into a vibrant production headquarters and community hub.
Who should go: Anyone who's missed admiring artwork in a gallery, fans of urban design, or anyone interested in seeing how a post office can be repurposed.
How to see it: The exhibit is in Studio Gang's Wicker Park gallery space.
A change of focus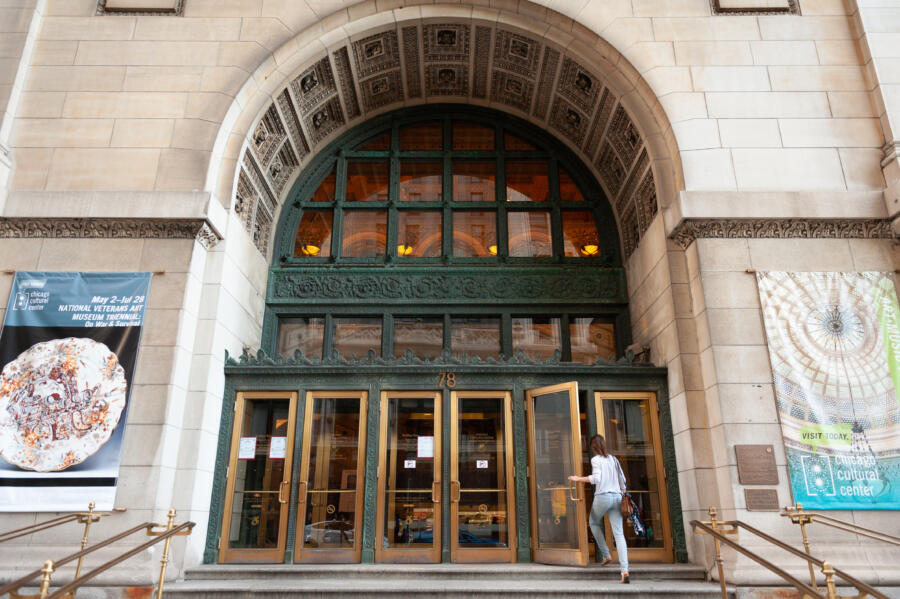 The Washington Street entrance of the Chicago Cultural Center.
Although the Chicago Cultural Center is in itself a standout of Chicago architecture and has served as the biennial's main venue in recent years, the Chicago Architecture Biennial's artistic director is moving the focus of this year's festival into Chicago's neighborhoods. But the cultural center is always worth a visit to see the stunning Tiffany glass dome (the largest in the world!) and check out free art exhibits and concerts throughout the year.
Who should go: Anyone who wants to enjoy the impressive architecture of the Cultural Center.
How to see it: Check the Chicago Cultural Center's events calendar for a list of free exhibits.